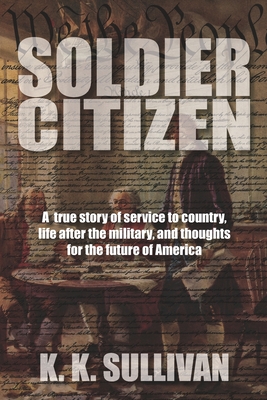 Soldier Citizen
A true story of service to country, life after the military, and thoughts for the future of America
Paperback

* Individual store prices may vary.
Description
LIFE OF AMERICAN SERVICE
Military, Community, Family
Family history can lay a path for generations. In author K.K. Sullivan's American-Irish family, military service ran wide and deep. At a young age, Sullivan knew that military service would be part of his life, and would provide opportunities for training, education, meaningful life work, and the love of his country.
Soldier Citizen, Sullivan's first book, follows his life from his early years through retirement, to love, family, and friendship. Like many other Americans, after he left the Army, his life path led him in and out of further military service and community service. He experienced ups and downs, danger and debilitating health issues, and a lot of life lessons. Here, he hopes to share the life of one American soldier citizen and encourage his fellow veterans to share their stories as well.
"Someone has to think about the future of the people.
"Part II of Soldier Citizen examines Sullivan's thoughts and philosophies on the future of America and her diverse people. From drivers ED, to commerce, to the environment, Sullivan shares his solutions to improve the lives of future generations.
Flimflam Enterprises LLC, 9781736073919, 282pp.
Publication Date: October 28, 2020