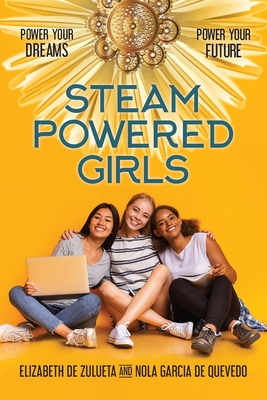 STEAM Powered Girls
Power Your Dreams, Power Your Future!
Paperback

* Individual store prices may vary.
Description
Power Your Dreams and Your Future Using the Principles of STEAM
STEAM is the combination of science, technology, engineering, the arts, and math. If you're a teenage girl who loves any of these subjects - or you're facing the challenges and dilemmas of growing up strong and able to achieve your dreams in today's world - this book is for you.
Lizzy, a robotics engineer, and Nola, a renowned science and robotics educator and STEM advocate, asked the happiest, most successful and powerful women they knew to share the tools and secrets they used to make it through middle school and high school. Their insights can help you to get through whatever comes up and become the woman you choose to be.
STEAM Powered Girls gives you specific ways to:
Recognize your unique skills and talents
Find multiple solutions to such challenges as peer pressure, self-doubt and feeling overwhelmed
Imagine your future, then follow your passion
Develop your potential and create your own successes
Start using the tools today to create the life you want. Learn more at www.steampoweredgirlsbooks.com.
Power Your Dreams Publishing, LLC, 9781736126806, 208pp.
Publication Date: November 14, 2020