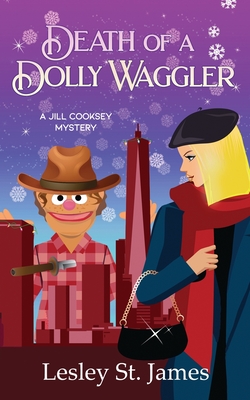 Death of a Dolly Waggler
A Jill Cooksey Mystery
Paperback

* Individual store prices may vary.
Description
Puppets are cute, right? Deadly too
With her boyfriend MIA and her trip-of-a-lifetime canceled, cash-strapped Jill Cooksey decides to use her vacation to moonlight on the set of a children's TV show and earn some much needed dough. The Mr. Snicklefritz Show is celebrating its thirtieth anniversary, and all Jill has to do is give tours of the set and answer questions. Even better, she gets to meet all her childhood heroes: Mr. Snicklefritz, Princess Gretel, and Squirrelly-Joe. How difficult could it be?
Deadly difficult.
When a puppeteer is murdered, Jill's excitement turns to fear as she learns that puppets have problems and what you see on TV is far from the truth. With the TV network threatening cancellation, can Jill figure out who's pulling the strings and save The Mr. Snicklefritz Show?
Death of a Dolly Waggler is the latest madcap adventure for Jill Cooksey, a PR professional whose clients never fail to misbehave but whose friends always have her back. With the help of her PR Posse, Jill takes on clients, criminals, and the New York dating scene. It's hard to say which is worse. Fans of Janet Evanovich, Penny Reid, Zara Keane, and Jana Deleon will fall in love with Jill Cooksey and her hysterical adventures
LESLEY ST. JAMES is also the author of the award-winning novel The Sweet Scent of Death which first introduced feisty sleuth Jill Cooksey. Connect with Lesley at www.lesleystjames.com.
Madcap Mystery, 9781736185551, 260pp.
Publication Date: July 1, 2021