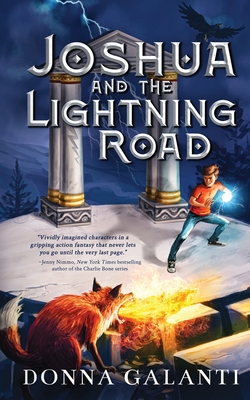 Joshua and the Lightning Road
Paperback

* Individual store prices may vary.
Description
Twelve-year-old Joshua Cooper learns the hard way that lightning never strikes by chance when a bolt strikes his house and whisks away his best friend-possibly forever.
Armed with only luck and his grandfather's mysterious crystal, Joshua must save his friend by traveling the Lightning Road to a dark world that steals children for energy.
New friends come to Joshua's aid and while battling beasts and bandits and fending off the Child Collector, Joshua's mission quickly becomes more than a search for his friend-it becomes the battle of his life.
PRAISE FOR THE AUTHOR
"Vividly imagined characters in a gripping action fantasy that never lets you go until the very last page." Jenny Nimmo, NY Times bestselling author of the Charlie Bone series
Joshua and the Lightning Road is a heart-pounding thrill ride full of unexpected twists and turns from start to finish." - The Midwest Book Review
"Action-packed adventure...futuristic creatures and ancient myths...an exciting combination." -Goodreads Reviewer
"Imaginative, vivid, and dazzling...Richly atmospheric...From the initial flash of lightning to the book's electrifying end, Galanti's eerie Lost Realm of Nostos is fresh, scary, and deep. A juggernaut of a thrill ride-perfect for the young adventurer in your life " -Amazon Reviewer
"...so vivid. I could feel, smell and envision the setting... all the right characteristics of a great main character - brave, smart and kind."-This Kid Reviews Books
"An action-packed adventure with every chapter Galanti has quite skillfully written a plot that keeps you guessing. I do recommend it, especially for fans of the Percy Jackson series." -Literary Hoots
"A thrilling, hard to put down fantasy adventure that will have wide appeal...bring on the sequel."-Marvelous Middle Grade Monday
"A solid recommendation for the fantasy, adventure fan. Strong, relatable characters and imaginative world building make this debut children's novel one you will hope will continue in a several book series."-Boys to Books
"A story of friendship, love, sacrifice, hope and courage. A wonderful, magical, mystery adventure for kids of all ages." -Fundimental Book Reviews
CATEGORIES FOR JOSHUA AND THE LIGHTNING ROAD
-- Fantasy Adventure Books for Kids
-- Middle School Books
-- Children's Book Sets
-- Children's Books by age 9 to 12
-- Best Sellers for Boys
-- Children's Adventure Books
-- Fantasy Books Kids Ages
-- Children's Fantasy Series
-- Greek Mythology for Kids Ages
Wild Trail Press, 9781736316207, 280pp.
Publication Date: January 4, 2021