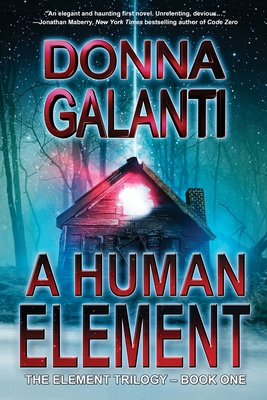 A Human Element
A Paranormal Suspense Novel (The Element Trilogy Book 1)
Paperback

* Individual store prices may vary.
Description
AMAZON TOP 20 BESTSELLER IN PARANORMAL SUSPENSE. AMAZON TOP 40 BEST SELLER IN SCIENCE FICTION.
Evil comes in many forms...
One by one, Laura Armstrong's friends and adoptive family members are being murdered, and despite her unique healing powers, she can do nothing to stop it. The savage killer haunts her dreams, tormenting her with the promise that she is next.
Determined to find the killer, she follows her visions to the site of a crashed meteorite in her hometown. There, she meets Ben Fieldstone, who seeks answers about this parents' death the night the meteorite struck. In a race to stop a madman, they unravel a frightening secret that binds them together.
But the killer's desire to destroy Laura face-to-face leads to a showdown that puts Laura and Ben's emotional relationship and Laura's pure spirit to the test. With the killer closing in, Laura discovers her destiny is linked to his, and she has two choices--redeem him or kill him.
PRAISE FOR THE AUTHOR
"Unrelenting, devious but full of heart. Highly recommended."--Jonathan Maberry, New York Times bestselling author of Code Zero
"Be afraid. Be very afraid. And be utterly absorbed by this riveting debut. A thriller star is born."--M.J. Rose, International bestselling author of The Collector of Dying Breaths
"Tugs on our heartstrings and plucks the gut-strings of horror. A true storyteller, highly reminiscent of Dean Koontz." --Dakota Banks, Award-winning author of the Mortal Path series
"Chilling suspense. A dark and haunting novel. Enjoy the ride."--Kindle Book Review
"A fast-paced paranormal suspense thriller that will keep you engrossed as you turn the pages. This suspenseful tale will stay with you long after you have read the last word."--Jersey Girl Book Reviews
"A suspenseful ride through life and love...and death." -Janice Gable Bashman, Author of Predator
"Such a beautiful, yet haunting debut novel." --Michael McCarty, Author of Lost Girl of the Lake
"A thriller with a huge, aching heart. Galanti's rich and provocative thriller asks big questions. With her blending of romance, the coming of age quest, and the supernatural, she is a writer to watch, who will surely expand the diameters of the thriller genre." --Catherine Stine, Author of Fireseed One
1st Place Winner: Best Paranormal Romantic Suspense Series 2014 Paranormal Romance Guild Reviewer's Choice Awards
Wild Trail Press, 9781736316245, 276pp.
Publication Date: January 31, 2021