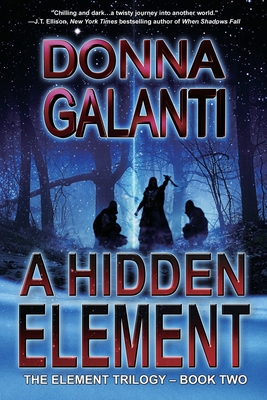 A Hidden Element
A Paranormal Suspense Novel (The Element Trilogy Book 2)
Paperback

* Individual store prices may vary.
Description
AMAZON TOP 40 BEST SELLER IN OCCULT FICTION.
Evil lurks within...
When Caleb Madroc is used against his will as part of his father's plan to breed a secret community and infiltrate society with their unique powers, he vows to save his oppressed people and the two children kept from him.
Seven years later, Laura and Ben Fieldstone's son is abducted, and they are forced to trust a madman's son who puts his life on the line to save them all. The enemy's desire to own them--or destroy them--leads to a survival showdown.
Laura and Ben must risk everything to defeat a new nemesis that wants to rule the world with their son, and Caleb may be their only hope--if he survives. But must he sacrifice what he most desires to do so?
PRAISE FOR THE AUTHOR
"Chilling and dark, Donna Galanti's A Hidden Element is a twisty journey into another world, where fathers and sons fight the ultimate battle, and ghostly strangers manipulate those left behind on Earth. Don't miss it."--J.T.Ellison, New York Times bestselling author of When Shadows Fall
"A haunting story about just how far parents will go to protect, or destroy, their children in the name of love."--Rebecca Cantrell, New York Times bestselling author of The World Beneath
"Galanti brings together all my favorite elements--psi-powers, aliens hiding among us, sex as a weapon and secret rebellions that could change worlds."--John Everson, Bram Stoker award-winning author of Siren
"Bone-chilling suspense with a tantalizing palpable menace readers will devour." --Jordan Dane, bestselling author of the Sweet Justice series
"A triumph of craft and characterization, A Hidden Element drips suspense from every compelling word. A gripping, emotionally involving, and unsettling read--highly recommended "-- Dakota Banks, award-winning author of the Mortal Path series
"Donna Galanti's A Hidden Element expertly mixes genres, combining sci-fi with mystery, thriller and romance." -- Allan Leverone, New York Times and USA Today bestselling author of Final Vector
3rd Place Winner: Best Paranormal Romantic Suspense Novel 2014 Paranormal Romance Guild Reviewer's Choice Awards
Wild Trail Press, 9781736316252, 270pp.
Publication Date: January 31, 2021