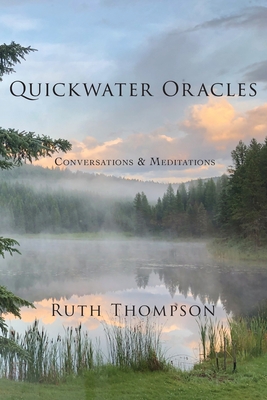 Quickwater Oracles
Conversations & Meditations
Paperback

* Individual store prices may vary.
Description
When award-winning poet Ruth Thompson decided to learn to channel in 2018, she wanted to deepen the intuitive connections with nature that inspired her poetry. The skeptical product of a scientific family, she did not expect the doors to fly open to a vast multitude of birds, trees, faeries, dragons, and a host of other nonphysical beings. "Quickwater Oracles," Thompson's record of their channeled conversations - expansive, uninhibited, tender, hilarious - will be published by Two Fine Crows Books in December, 2021.
Conscious channeling involves intentionally connecting and communicating with nonphysical fields of consciousness. Thompson's poetic gifts make her translations of energy communications so vivid that for the reader it is almost like experiencing them in person.
Although she began in despair at the state of the world, these messages were filled with exuberant celebration. As one of the channels says: "We say, change your spectacles to joy. To joy "
Inspiring yet unsentimental, Quickwater Oracles can be used for daily meditation, journaling, and discussion, or read as one woman's channeling journey. Readers who loved Ross Gay's "The Book of Delights," Aimee Nezhukumatathil's "World of Wonders," and Robert MacFarlane and Jackie Morris's "Lost Spells" will treasure Ruth Thompson's gift of "joy-making and singing."
Two Fine Crows Books, 9781736525814, 160pp.
Publication Date: December 4, 2021