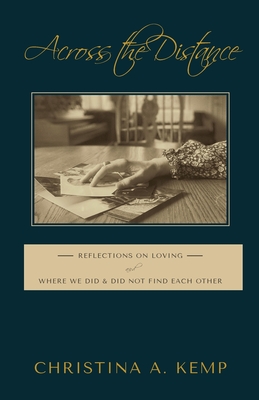 Across the Distance
Reflections on Loving and Where We Did & Did Not Find Each Other
Paperback

* Individual store prices may vary.
Description
Christina A. Kemp weaves poetic language and piercing wisdom into this intimate exploration of relationships, grief, and loss. In her memoir, she reflects on eight significant relationships in her life, including those with her late father, her mother and younger brother, a childhood best friend, a coming-of-age mentor, two former lovers, and finally, with herself. Throughout, Kemp displays bravery, humor, and a gentle regard and compassion for the people who both shaped and wounded her, along with a willful determination to glean critical life lessons from these encounters. Readers are bound to identify with the universal themes contemplated by this sensitive, loving heroine: her keen eye for nature's beauty and rhythms, her signature self-awareness, and her unflinching desire to make sense of the harms that befall her. Her words reflect the boundless depths of loss, the power of healing, and the sacred truths that lay within, beneath, around, and among all of us.
Sidekick Press, 9781736535882, 230pp.
Publication Date: February 18, 2022