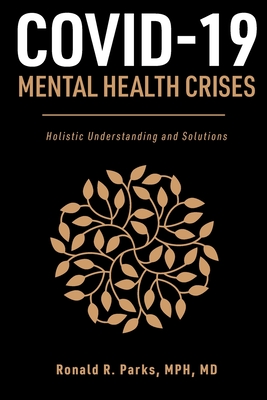 COVID-19/Mental Health Crises
Holistic Understanding and Solutions
Paperback

* Individual store prices may vary.
Description
Need practical information and wisdom addressing mental health during crises, tragedies, and the COVID-19 Pandemic?
During the COVID-19 Pandemic, many have experienced extreme personal loss. People are suffering, having experiences not unlike those faced by survivors of natural disasters.
Dr. Parks' health interests began as a child growing up in rural Maryland. After developing a high fever and stiff neck, he was diagnosed with polio and rushed to City Hospital for Children. The experience changed his life forever.
This timely book focuses on a holistic approach to mental health during times of significant crises and challenges. Topics covered include:
grief and loss
anxiety
depression
addictions
pandemic fear
how to recognize early signs of mental health difficulties and their origins
coping and finding the help you need
and ways of regaining health, balance, stability, and longevity.
The book has an upbeat style that will energize your mind and refresh your ability to carry on through troubling times.
Dr. Parks examines the impact of COVID-19 or other forms of crisis, loss, or tragedy on individual mental health. From his perspective as a Board-certified psychiatrist, a holistic healthcare consultant, and a caring, concerned teacher, He offers helpful insights and suggestions designed to empower those with ongoing emotional challenges and those who want to maintain optimum mental and physical health.
Blending research, historical events, and his own life experiences, Dr. Parks has created an easy-to-understand, practical guide to help readers survive and thrive during troubling times. The essential step is to identify early signs of emotional and psychological dysfunction or impending breakdown.
The book's educational and guiding content stresses the value of holistic awareness and actions, providing insights and inspiration. It succinctly presents helpful preventative and intervention tips. Readers will gain a clearer perspective of mental health issues that happen with the demands and unexpected changes or challenges that can occur to anyone.
Many vital elements play into our overall mental health and sense of wellbeing. This book, utilizing a multi-faceted approach, imparts valuable wisdom while covering essential topics related to:
mental health challenges
holistic medicine
psychology
spiritual awakening
meditation
and other tried and true self-help techniques.
Most people are not just facing the Pandemic-many have experienced a personal loss of loved ones, worsening or the start of emotional or mental health challenges, addictions, trauma, and loss of purpose and meaning. Navigating so much hardship weighs heavily on our psyche. Still, this book reminds us that we can persevere and awaken to a deeper understanding of ourselves, others, and the spirit of life.
This book covers a diversity of mental and emotional health topics, surviving the times of crisis and exceptional challenge as the current COVID pandemic, finding coping ways, and reducing disease risk during tough times.
There's no shame in getting help when you need support.
Parkspress, 9781736552506, 194pp.
Publication Date: April 7, 2021