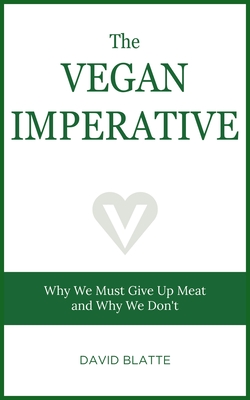 The Vegan Imperative
Why We Must Give Up Meat and Why We Don't
Paperback

* Individual store prices may vary.
Description
In recent years, veganism has exploded into popular culture and mainstream consciousness. Yet despite its ubiquity, few embrace it themselves-it is something "other people" do. The Vegan Imperative, through a compelling narrative, establishes that veganism is for everyone. It is more than just a passing fad. It is a moral, environmental, and health imperative.
After making the case for veganism, The Vegan Imperative goes a step further, tackling the enigmatic question of why, given these imperatives, people continue to eat meat. The book provides the reader with a comprehensive look at veganism, addressing both sides of the vegan coin: "Why vegan?" and "Why not vegan?"
In part one, the author, a former animal law attorney and executive director of Vegan Action, focuses on the three main reasons people go vegan-morality, environment, and health. After exploring the phenomenon of speciesism, he provides a rare glimpse into the world of animal law, taking the reader through six actual cases.
With groundbreaking analysis, part two explores the broad array of factors underlying the decision to eat meat. Examining such topics as cognitive dissonance, dissociation, avoidance, cultural norms, social factors, physiology and more, vegans will have a greater understanding of why others eat meat, and nonvegans will gain insight into the seen and unseen influences that determine their dietary choices.
Based on the author's personal journey, interviews with vegans, vegetarians and meat-eaters, and the most recent scientific studies, The Vegan Imperative entertains the reader while offering substantial food for thought. Whether you are a vegan, seriously thinking about going vegan, or simply curious, the book is a revelation and inspiration.
Praise For The Vegan Imperative: Why We Must Give Up Meat and Why We Don't…
David interweaves the central tenets of the vegan ethic with his personal narrative in a way that is accessible and engaging to the reader.… addressing all of the consequential issues associated with being a meat eater…. The author poignantly [asks] 'why not vegan?' and … he encourages all of us to do the best we can—he reminds us, "even though none of us are perfect, we can aspire to be."
Krissi Vandenberg, Executive Director, Vegan Action

Every page of this work signals the characteristic rigor of thought and commitment to principle that have characterized David Blatte's personal witness for compassionate treatment of animals in the 30 years I've known him…. If you're inclined to think that the world doesn't need another book on veganism, think again, and read this one.
Bernard Unti, Senior Principal Strategist for Communications, Humane Society of the United States

A fascinating and informative glimpse into the life of an animal activist, thinker, and lawyer…. As a matter of justice, animals deserve a legal and social status that reflects the richness of their lives and their capacity for joy and suffering. The Vegan Imperative makes a compelling case for such a transformation.
Matthew Liebman, Chair of the Justice for Animals Program and Associate Professor, University of San Francisco School of Law

If we are to forge a pathway to our collective well-being, we need to recognize the interconnectedness between diet, animal cruelty, and the health of our precious larger body, this earth. The Vegan Imperative shines a clear light on this crucial domain, showing how we can respond non-judgmentally, wisely and with compassion, to the suffering in our world.
Tara Brach, author of Radical Acceptance and Radical Compassion

David … combines his concern for animals with humor, storytelling and the latest research, engaging the reader as he recounts his journey to veganism and articulates, with compelling clarity, the moral, environmental and health reasons to refrain from eating animal-sourced foods…. For anyone striving for a life of greater peace and harmony—vegans and nonvegans alike—The Vegan Imperative is a must read.
Dr. Will Tuttle, author of The World Peace Diet

Living with rescued farmed animals for over 30 years, I've experienced firsthand how intelligent and sensitive they are. The Vegan Imperative will inspire you to take a hard look at your food choices. If we are to practice compassion for all sentient beings, veganism is essential.
Kim Sturla, Executive Director, Animal Place


Pythagorean Publishing, 9781736573204, 250pp.
Publication Date: April 6, 2021
About the Author
David Blatte is a former animal law attorney and executive director of Vegan Action. He is also cofounder of Dharma Voices for Animals and director of the film Animals and the Buddha. He has been advocating for animals for over 40 years.