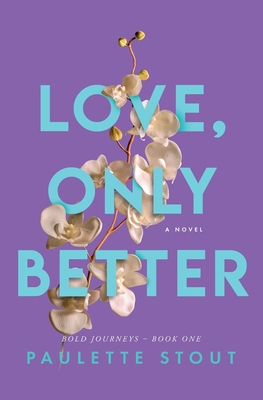 Love, Only Better
Paperback

* Individual store prices may vary.
Description
IN A BOLD AND EMPOWERING NOVEL ABOUT A VERY REAL ISSUE, PAULETTE STOUT INTRODUCES AN ADORABLE GAL WITH AN INTIMATE SECRET.

"Stout excels at describing and dramatizing Rebecca's issues, seizing a welcome opportunity to address common (but often avoided) issues surrounding female sexuality and intimacy." -BookLife
"Brave in a way women desperately need." -Reader Review
For Rebecca, sex is a joke missing a punchline. No crashing waves. Only pangs of inadequacy. At twenty-eight, shouldn't she have had one by now? Her snickering ex thought so. His taunts echo in her ears as he rolls out of her bed. Then out of her life.
Lost, Rebecca seeks expert help, joining a study for women who can't "finish" in the bedroom. There is such a thing? It's unconventional, for sure, but she's desperate for answers. The no-sex mandate is a no brainer. Who'd want to be with her anyway?
Then Kyle moves in. Her blue-eyed, black motorcycle-riding dream of a neighbor lives a heartbeat away. Sparks flew immediately. But could the timing be any worse?
If he learns her secret, she'll lose her best chance at love. But if her lessons fail, she'll be left eternally broken. Unlovable.
What started as a search for fulfillment, has suddenly become a quest for something far greater.
Love, Only Better is an intimate quest full of heart, blending a fun next-door romance with steamy dates-for-one. Perfect for fans of Helen Hoang (The Kiss Quotient), Jennifer Weiner (Good In Bed), Jojo Moyes and fans of women's fiction full of wit, spice and soul. Buy it now
PRAISE FOR LOVE, ONLY BETTER
"I loved the feminism and the overdue mentions of women's basic needs. I definitely recommend this book." (NetGalley)
"If you're looking for a book with its heart open just waiting to draw you in, look no further. I really recommend it." (NetGalley)
"Paulette Stout deserves all the stars for bringing to the page a story that I haven't seen explore in fiction this way before." (NetGalley)
"The chemistry between Kyle and Rebecca had me on the edge of my seat. I definitely recommend this book." (NetGalley)
"At a time when women need their voices heard, you sing a beautiful song with this book." (Reader Review)
"Rebecca's journey is a story I've never encountered before and I read A LOT of books." (Reader Review)
"I thoroughly enjoyed it and read it in two days." (Reader Review)
"You took a difficult topic and made it a beach read." (Reader Review)
"I've fallen in love with Kyle." (Reader Review)
"Rebecca is such a great, multidimensional character." (Reader Review)
"I couldn't put it down." (Reader Review)
"I absolutely adore these characters." (Reader Review)
Media Goddess Inc., 9781736637111, 384pp.
Publication Date: September 28, 2021