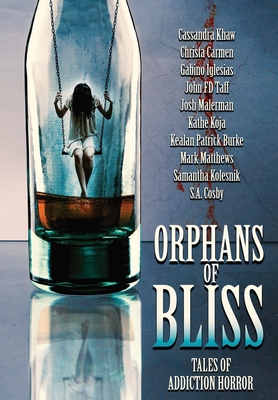 Orphans of Bliss
Tales of Addiction Horror
Hardcover

* Individual store prices may vary.
Description
*Cover art by Kealan Patrick Burke's Elderlemon Design is exclusive to the hardcover edition.
Addiction is the perpetual epidemic, where swarms of human moths flutter to the flames of hell. Because that warm blanket of a heroin high, that joyful intoxication of a pint of vodka, that electric energy from a line of cocaine, over time leaves you with a cold loneliness and a bitter heart. Relationships destroyed, bodies deteriorate, loved ones lost, yet the craving continues for that which is killing us-living, as the title suggests, like an Orphan of Bliss. Welcome to the third and final fix of addiction horror and the follow up to the Shirley Jackson Award Finalist, Lullabies For Suffering. A diverse table of contents brought together for an explosive grand finale-an unflinching look at the insidious nature of addiction, told with searing honesty but compassion for those who suffer. The table of contents includes:
Josh Malerman
New York Times Best Selling writer of Bird-Box and one of the most prolific writers of his generation. His story in Orphans of Bliss is a King Midas curse for those who can never drink enough, where witches watch you from every bar stool.
Cassandra Khaw
A Locus Award finalist and a USA Today Best-Selling author. In their story, What We Name Our Dead, a woman is haunted by the ghost of her substance-abusing father
Kealan Patrick Burke
Bram Stoker Award winning author of Turtle Boy, Kin, and Sour Candy, and one of the most talented horror writers in the genre. Burke's work appears in all three addiction horror anthologies, weaved together in one universe. He's done nothing less than create an addiction-fueled mythos.
SA Cosby
New York Times best-selling author of Razorblade Tears and Blacktop Wasteland. With his unmistakable voice, Cosby tells a story of a powerful new blend of meth that overruns a rural town.
Kathe Koja
Koja is a multiple time Bram Stoker Award winning author and her trademark intense, speculative fiction is on full display in her short story, Singularity.
Christa Carmen,
Author of Something Borrowed, Something Blood-Soaked, which won the Indie Horror Book Award for Best Debut Collection. Readers are in for a shock when they follow an addict trying to get clean Through the Looking Glass and Straight into Hell.
Samantha Kolesnik
Kolesnik's novella, True Crime, took readers by storm and won a Splatterpunk Award. Her story, Buyer's Remorse, is about a character constantly craving a new identify with perpetual consumption to fill her empty spaces, but is never fully satisfied.
JOHN FD TAFF
Two time Bram Stoker Award Finalist and backbone for the addiction horror series. In Taff's cosmic story, a man has stopped using drugs, but hoards his character defects piled high in his basement cellar.
MARK MATTHEWS
Shirley Jackson Award nominated editor and author of Milk-Blood. Matthews is the editor of all three anthologies, works in the field of behavioral health, and is in recovery from his own addiction.
GABINO IGLESIAS
Wonderland Book Award author of winning Coyote Songs. Gabino was nominated for a Bram Stoker award for his work in Lullabies for Suffering and he's once again built a world infected with drugs, this time, a dystopian landscape.
Wicked Run Press, 9781736695067, 192pp.
Publication Date: April 27, 2022