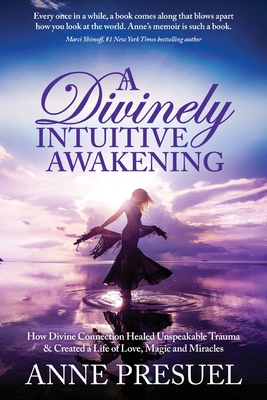 A Divinely Intuitive Awakening
How Divine Connection Healed Unspeakable Trauma and Created a Life of Love, Magic and Miracles
Paperback

* Individual store prices may vary.
Description
Every once in a while, a book comes along that blows apart how you look at the world. Anne's memoir is such a book. Whether you read it for its wisdom and inspiration on how to create your own miraculous life, or simply for an amazing story, just read it
Marci Shimoff, #1 New York Times Bestselling Author of Happy for No Reason and Chicken Soup for the Woman's Soul
"Mommy, Michael's been touching me "
Then she burst into tears.
I sat frozen, like a mouse who had just been shocked for some scientific researcher's experiment. Wrapping my arms around my little girl, I stroked her head as I held her tightly. She clutched me and sobbed.
At this moment, Anne's life changed forever. The abuse was a medically historical case: the first known connection of a brain tumor to pedophilia that caused her husband to behave in sexually deviant ways, including molesting her daughter. Could Anne ever forgive him? Should she? If so, what would it take?
In her compelling memoir, A Divinely Intuitive Awakening, Anne recounts the surprising events her daughter's revelation sparked over the decade that followed, from navigating the emotional wreckage and the media coverage that dogged her family to tapping into her own divinity and helping thousands of people access their inner wisdom.
With unblinking honesty and deep feeling, Anne's story is more than a narrative that will glue you to the page. It's an exploration of how her soul's awakening guided her from betrayal and rage into healing and forgiveness, and ultimately led to the recognition of the profound power she-all of us-hold within ourselves to create miracles.
Divine Press, 9781736792209, 282pp.
Publication Date: April 4, 2021