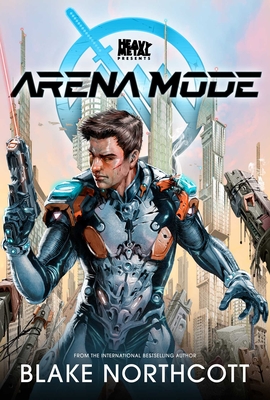 Heavy Metal Presents Arena Mode (The Arena Mode Saga #1)
Paperback

* Individual store prices may vary.
Description
Superhumans live among us, but none of them want to save the world. Instead, they're competing in 2041's deadliest sport: 'Arena Mode'.

Hoping to win enough money for life-saving surgery, Matthew Moxon enters the event ... but in a battle against superhumans, he's the only competitor without a super power.

In 2041 superhumans live among us, but none of them want to save the world.

Not that there's much left to save: sea levels are rising, the income gap is widening, and the rich live above it all in Manhattan's shimmering megatowers.

Below in the Fringe, Matthew Moxon has done virtually nothing with his record-shattering IQ except catalog comic books and cheat at blackjack … until he discovers a tumor is pressing against his brain.

Unable to afford life-saving surgery, Mox enters a deadly sporting event where superhumans fight for a multi-billion dollar prize.

An expert at tilting the odds in his favor, Mox has a strategy, an inside track, and his friends to help. But in a competition with demigods, he's the only one without a super power … and he's armed with nothing more than his rapidly-diminishing brain cells.

From acclaimed author Blake Northcott (DC Comics' 'Catwoman', 'The North Valley Grimoire') comes the international bestselling sci-fi thriller, ARENA MODE.

Discover the series that has been nominated for the prestigious BSFA Award (Arena Mode, Best Novel of 2013), has been ranked #1 on Amazon in the US and the UK (Arena Mode, Superhero and Dystopian categories, May 2015) and is part of the high school curriculum in the state of Florida.
Heavy Metal Entertainment, 9781736817964, 321pp.
Publication Date: May 3, 2022
About the Author
Blake Northcott is a Canadian author, screenwriter, and producer.

Her sci-fi/superhero trilogy, 'The Arena Mode Saga', became the most-funded Kickstarter series in Canada, and one of the platform's top-performing series of novels worldwide. 'Arena Mode' was on the nomination list for the prestigious BSFA (British Science Fiction Association) Best Novel award, and the books are part of the high school curriculum in Florida.

Northcott's follow-up novel, the magical spy thriller, 'The North Valley Grimoire', became the most-funded Kickstarter novel in Canadian history, and an Amazon Bestseller in 2019.

She broke into the comic book industry as an editorial writer at Mark Millar's Millarworld ('Jupiter's Legacy', 'Kick-Ass', 'Kingsman').

Blake made her DC Comics debut with 'Catwoman' #23 in July of 2020; it sold out before it hit stores, and a 2nd printing was announced. Some of her other comics include 'Synapse', which appeared in the Heavy Metal #300 All-Star edition, 'Fathom' for Aspen Comics, 'Vampirella' for Dynamite Comics, and the surprise indie hit of 2020, 'Everglade Angels'.

In March 2021, Heavy Metal Studios (co-producing with Range Media) optioned 'The Arena Mode Saga', and announced they would be adapting the series of novels for TV.

And in May 2021, Papa Octopus Productions announced they were producing 'The Omega Artifact', a feature film written and co-produced by Blake Northcott, based on her novella of the same name.