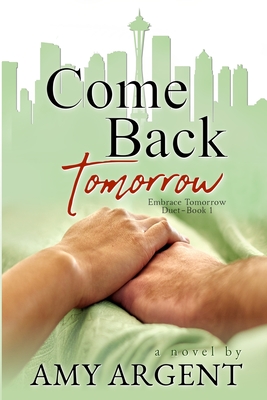 Come Back Tomorrow
Paperback

* Individual store prices may vary.
Description
Looking for an unforgettable novel like Me Before You or The Fault in Our Stars but with a silver lining? Then Come Back Tomorrow is your next angsty romance must-read.
William Everson, Jr. is young, he's dying of terminal cancer, and he's all alone. I meet him through my mission to befriend terminal cancer patients with no visitors, but it takes me much longer to meet "Will" and to learn anything about his family, his friends, and why he has a DNR order in place.
"Can I come back tomorrow?"
That's always my question at the end of our visits.
When it becomes his question-"Will you come back tomorrow?"-it changes both of us forever. Will's given up on life; I won't let him go without a fight. But is what we share enough to make Will rethink any of his choices . . . before it's too late?
Come Back Tomorrow follows the heart-wrenching journey through illness to the very edge of life and to the critical decision that must be made: accept your fate or fight with everything you have.
Come Back Tomorrow is the first book of the Embrace Tomorrow Duet.
Praise For Come Back Tomorrow…
"Heartbreakingly realistic. Strikingly poignant. The power of love, the struggle of life and forgiveness told in stark, real moments." - New York Times Bestselling Author Melanie Moreland

"This is the kind of book that will change your life once you start reading it!" - Words of Wisdom . . . from The Scarf Princess Blog

"This book is an experience that is both realistic and beautiful and I was truly sad when I got to the last page. This is one of the best books of the year and should not be missed!" - Comfy Couch Book Reviews

"A highly impressive debut novel! Amy Argent has set the bar astronomically high with Come Back Tomorrow, which is why it gets five stars, and has made Whatever Tomorrow Brings quite highly anticipated." - Dog-Eared Daydreams Blog

"Ms. Argent has created a beautifully crafted tale, weaving together the ugliness of life (cancer, bad family relationships, poor self-esteem) with the beauty (good friendships, kindness, those who help) that hurt my heart but brought hope as part one ended. I cannot wait to read the conclusion!" - Laura, Amazon Reviewer

"With Come Back Tomorrow, Ms. Argent has created such a wonderful and realistic debut! Her writing will touch your heart in so many ways. I can't wait for more in book two, Whatever Tomorrow Brings!" - Theory of A Dreamer Book Blog

"Come Back Tomorrow is an amazing story that will have you laughing, crying, and turning pages as quickly as possible." - Julie, Amazon Reviewer
Turning Tree Press, 9781736940501, 382pp.
Publication Date: August 10, 2021
About the Author
Amy Argent is the author of the Embrace Tomorrow Duet: Come Back Tomorrow and its sequel, Whatever Tomorrow Brings. Amy can honestly say she writes day and night—clinical trial documents as a medical writer by day and contemporary romance as a novelist by night . . . and possibly into the wee hours of the morning. She has a PhD in Genetics that she agonized entirely too much over, but it did result in a fascinating day job—the details of which tend to creep into her fiction.

Amy can be found in Raleigh, North Carolina, with her husband, two teenagers, and two hedgehogs, where she's most likely planning her next departure from reality—destination: Dragon Con, the closest Renaissance Faire, or the nearest book.

Amy has always been fascinated by the many ways people cope with the human condition. Her stories explore the emotional journey we take when adversity drastically changes life's course, but being an eternal optimist, she's found her niche in soulful stories with silver linings. In truth, they can always be found if one is willing to look for them.