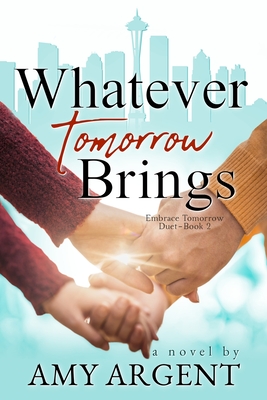 Whatever Tomorrow Brings
Paperback

* Individual store prices may vary.
Description
"Will you stay? At least for a few minutes? You're the first visitor I've had."
Intense green eyes, so warm and yet distant. So alone and vulnerable, yet so resilient and strong.
"Can I come back tomorrow?"
So many days spent with him, gaining his trust by giving him my own. Falling in love with him a day at a time. A smile at a time.
"I'm scared, Tori. I feel like I'm falling apart, and there's nothing left to hold on to."
"Hold on to me, sweetheart."
Oh God, and then . . .
"Tori, I want you to go . . . and I don't want you . . . to come back tomorrow."
And I left.
"Code blue, code blue, room four-twelve."
And he nearly left this world before I could get back to him. Before he could see the truth of what was between us.
"Jenny, is there any hope for him?"
"Tori, you need to be there for him and help him fight this. Remember that he loves you, and in the end, he chose you."
He chose me.
Will chose me, and he's fighting for me. He's fighting for us. And I'm going to help him fight, with everything I have.
Praise For Whatever Tomorrow Brings…
"This story is extremely well written and the characters are well developed and have so much depth to them. The subject matter is sensitive yet the author handles the details with grace and calmness." - Reading in the Red Room Book Blog

"The Embrace Tomorrow duet was a fantastic offering from a new author." - Sunny Shelly Reads Book Blog

"With each turn of the page readers will become even more immersed in this couple's outcome and applauding Ms. Argent on her storyline full of heart and soul!" - Jody, Goodreads Reviewer

"This emotionally charged romance takes you on a heartfelt journey between two people fighting for their reason to live." - The Nerdy Bookworm Blog

"I would suggest to everyone to read this book--the edge of the seat drama, the selfless love . . . so worth it!!! - Dirty Books and Messy Hair Book Blog
Turning Tree Press, 9781736940525, 378pp.
Publication Date: October 5, 2021
About the Author
Amy Argent is an avid reader and writer of contemporary romance. Amy can honestly say she writes day and night —clinical trial documents as a medical writer by day and contemporary romance as a novelist by night . . . and possibly into the wee hours of the morning. She has a PhD in Genetics that she agonized entirely too much over, but it did result in a fascinating day job—the details of which tend to creep into her fiction.

Amy can be found in Raleigh, North Carolina, with her husband, two teenagers, and two hedgehogs, where she's most likely planning her next departure from reality —destination: Dragon Con, the closest Renaissance Faire, or the nearest book.

Amy has always been fascinated by the many ways people cope with the human condition. Her stories explore the emotional journey we take when adversity drastically changes life's course, but being an eternal optimist, she's found her niche in soulful stories with silver linings. In truth, they can always be found if one is willing to look for them.