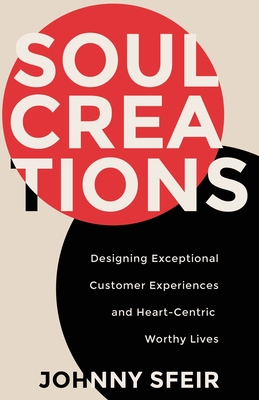 Soul Creations
Designing Exceptional Customer Experiences and Heart-Centric Worthy Lives
Paperback

* Individual store prices may vary.
Description
Create experiences that last a lifetime and beyond
Customers and employees crave experiences they will remember for a lifetime and more if possible. Experiences done superbly bring followers who become loyal to a brand and even make it a part of their identity and lifestyle.
Inside this special book you'll find the principles by which you can not only create exceptional customer experiences but also live your life to its fullest, creating new possibilities, and transforming companies into the best of what they offer.
In Soul Creations I invite you into my successes and triumphs but also my failures and setbacks, so that you can witness how to transform and continue to transform your career as I did.
In each chapter I provide you with powerful exercises and a solid process to discover, develop and deliver a unique Customer Experience Performance to help you step into new roles with courage and action.
Soul Creations will provide everything you need to:
-✓ Position your brand in front of customers who are ready to be amazed.
✓ Create story-worthy experiences that bring customers back again and again.
✓ Design experiences that have a positive impact on your internal and external customers.
✓ Inspire your employees to learn, grow, and perform at their peak.
✓ Train leaders of the future on how to enhance customer experiences.
✓ Create a world in which companies are equipped to provide the human connection we all crave.
✓ Design your signature story in order to grow your platform, have more impact and attract opportunities
My inspirations: Vans and Chiara
Serving my wife because of her cancer disease helped me as a customer experience expert to create an atmosphere, accept and deliver what helped her disconnect from the gravity of being very sick and enjoy each moment every day I helped her feel alive and vibrant. This is the promise that I gave my wife before she passed away -- to make this book reality and dedicated to her and my daughter, Chiara, on the autism spectrum. I became both dad and a mom for her, making her every moment far from bad emotions or feelings -- just happiness and positivity.
My sweet girls inspired me as well to value more and more what I do and the great importance of serving others.
Johnny Sfeir, 9781736969205, 194pp.
Publication Date: July 27, 2021