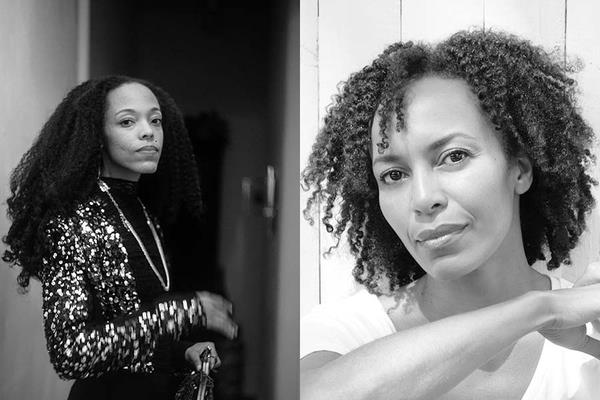 EISA Davis & Jillian Walker
Two Conversations
Paperback

* Individual store prices may vary.
Description
In September 2021, playwright/performers
Eisa Davis and Jillian Walker met to discuss Walker's performance ritual, SKiNFoLK:
An American Show (forthcoming from 53rd State Press in March 2022). In
January 2022, they met again to discuss Davis's installation performance
piece The Essentialisn't (forthcoming from 53rd State Press in
2023). In these twin interviews about the uncanny ways their works mirror
each other, Davis and Walker take up questions of archive, memory, generational
trauma, survivor's guilt, and the conundrum of performance given the
commodification and consumption of Black women's joy and pain. How to
acknowledge, process, and heal the hurt that is felt? How to perform without
being captured by others' ideas of what it means to be oneself?
53rd State Press, 9781737025542, 150pp.
Publication Date: March 21, 2023
About the Author
EisaDavisis an award-winning actor, writer, and singer-songwriter working on stage andscreen. She was a finalist for the Pulitzer Prize in Drama for her play Bulrusher, and wrote and starred in Angela's Mixtape, named a best of the year by TheNew Yorker. Other plays include Ramp (Ruby Prize winner), The History of Light (Barrymorenomination), Paper Armor, Umkovu, Six Minutes, Warriors Don't Cry, Mushroom, and : Girls:: Chance:: Music: . Collaborations include Mazeat The Shed, The House on Coco Road, Active Ingredients, HipHop Anansi, and Cirque du Soleil's first ice show, Crystal. Worksin progress include a sound art installation/performance piece entitled The Essentialisn't, and amusical version of Devil In A Blue Dress. Eisa wrote for both seasonsof the Netflix series She's Gotta Have It, and is creating a limited seriesbased on the memoir by Carlotta Walls LaNier, the youngest member of the LittleRock Nine. Eisa is a 2020 Creative Capital recipient. She was awarded theprestigious Herb Alpert Award in Theatre, and was a resident playwright at NewDramatists, where she won the Helen Merrill Award and the Whitfield Cook Award, among others. She has received fellowships from Sundance, Yaddo, the MacDowellColony, Cave Canem, and the Doris Duke, Van Lier and Mellon Foundations. As anactor, she is an Obie Award winner for Sustained Excellence in Performance.Eisa's recent work includes a microplay by Lynn Nottage in the virtual seriesTheatre For One, the role of June in the musical adaptation of The SecretLife of Bees (AUDELCO award, Lortel nomination), Kings at the Public(Drama League nomination), the 2017 Shakespeare in the Park production of JuliusCaesar, and Preludes created by Dave Malloy and Rachel Chavkin, forwhich she received her second Lucille Lortel nomination. Other theatreperformances include Antigone in Ferguson, Luck of the Irish (Lucille Lortel and AUDELCOnominations), the world premieres of This and The Call, thefirst revival of ThePiano Lesson at Yale Rep (also composer and music director), and theacclaimed Broadway rock musical Passing Strange, captured on film bySpike Lee. Current television work includes Betty, Bluff City Law, GodFriended Me, Rise, Condi Rice on The Looming Tower, and Succession.Jillian Walker is a multidimensional artist, teacher, and ancestral guide. She is the creator of the critically-acclaimed, SKiNFoLK: An American Show, (NY Times Critics Pick, Kilroys List) forthcoming from 53rd State Press, Songs of Speculation (2020 Third Coast Award), Sarah's Salt, and the upcoming film, BLK GRK (or, hiding in plain sight). Jillian is a 2020 Lilly Award recipient and seeks to inspire the culture ever-more toward love and liberation in her time-bending in(ter)dependent publication, "The Free List." Jillian currently lives, works and heals in New York. www.thisisjillianwalker.com