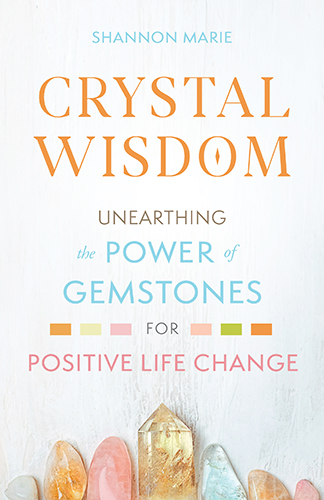 Crystal Wisdom
Unearthing the Power of Gemstones for Positive Life Change
Paperback

* Individual store prices may vary.
Other Editions of This Title:
Hardcover (6/15/2021)
Description
Access Your Inner Wisdom Through the Power of Crystals

If you're intrigued by the power of crystals and gemstones but still wonder how to use them for real life change, this book will show you how Join author and certified professional gemologist Shannon Marie as she unveils, step by step, how to tap into your intuition and create a personal Crystal Wisdom practice to navigate life's challenges with more ease.

Whether you are brand new to gemstones and crystals or have been working with them for years, inside these pages you'll learn how to:

● Choose the crystals that will support you the most in your day-to-day life
● Shop confidently with insider knowledge on what to look for and what to avoid
● Design your own gemstone meditations to help you access your Inner Wisdom and overcome difficult emotions
● Respond mindfully and intentionally to daily life stressors
● Start using your crystal collection to cultivate more peace in your life

Praise For Crystal Wisdom: Unearthing the Power of Gemstones for Positive Life Change…
"This is an excellent primer to open you up to the world of Crystal Healing and the wisdom the crystal kingdom holds! Shannon does an amazing job setting the stage for selecting the right crystal allies for you and your healing journey and how to cleanse, charge, and activate them. Most importantly, she teaches you how to establish a daily practice so you can truly, and more deeply, connect with your healing allies in expansive ways!"
-Margarita Alcantara, M.S. L.Ac., Shamanic Practitioner, Reiki Master/Teacher, Mentor, Chakra Expert, bestselling author of Chakra Healing

"I had the privilege of receiving an advanced reader copy of Crystal Wisdom. As a Somatic Psychotherapist and Yoga Therapist, I have always been interested in crystals and, throughout the years, have gathered many myself. The author opened my eyes up to a whole new world about crystals. I had no idea how much there was to learn. She has a wealth of knowledge about everything from the collection of them, their care, and their uses, and gently lays out a beautiful guide on how to use them for support in your meditation for self-awareness and grounding. I am so excited to use the crystals I have in a different way now, as well as to investigate gathering more based on my current needs. I highly recommend this book to anyone seeking deeper knowledge in this area for yourself, or especially for yoga therapists for the proper use and recommendation of crystals for their client's support in practice."
-Ann Saffi Biasetti, Ph.D.; LCSWR; CIAYT, Author of Befriending Your Body: A Self-Compassionate Approach to Freeing Yourself from Disordered Eating

"It is hard to write a short review for this book. How can one describe all the wonderful journeys this well-researched and well-written book took me on? It is a must-have for anyone interested in using crystals for spiritual growth and emotional healing. Each story delivers a meaningful lesson with clear instructions that are easy to follow. It is a soul-enriching read. Use it well."
-Marina Lando, M.S., Reiki Master and Teacher, Certified Aromatherapist, Published Author, HarmonyLifeReiki.com

"Over the years, I've collected many colorful and intricate crystals and numerous books on gemstone properties and identification. Crystal Wisdom is the first book I've found that provides personal, practical, step-by-step guidance on incorporating the energy of these beautiful crystals into daily life. Each story that Shannon shares and every practice she outlines in Crystal Wisdom offers readers the opportunity to dig deep into the wisdom that lives within us all and provides a map for mindfulness and self-exploration. Ultimately, these simple and accessible mindfulness practices are powerful tools to support personal transformation with a little help from treasures from the earth."
-Jill Sockman, Founder, Blue Lotus Yoga, bluelotusnc.com

Modern Wisdom Press, 9781737028208, 160pp.
Publication Date: April 29, 2021
About the Author
Shannon Marie has enjoyed a life-long fascination with gemstones. She is a Certified Professional Gemologist and has created custom gemstone jewelry for more than 15 years. Shannon has studied Reiki, Yoga Therapy and has a Master's degree in Transpersonal Psychology. Her Crystal Wisdom technique combines her expert knowledge of the unique powers of gemstones with reflective practices to help ease life's challenges and ignite personal transformation. She offers online courses and workshops through her website.