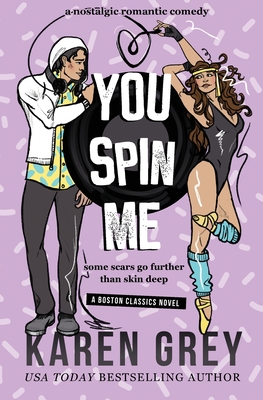 You Spin Me
a nostalgic romantic comedy
Paperback

* Individual store prices may vary.
Description
"Readers who love the 80s/90s nostalgic era and maturing "broken" characters will be captivated with the characters, the plot, and the unforgettable era of the 80s/90s - the good, the bad, and even the ugly side of things. Jess and Cal's story is an indelible ink that seeped into my subconsciousness. I felt every cheer in their triumphs and shed every tear in their disappointments." --Currant7_Recommends ★★★★★
Some scars go further than skin deep...
1988 doesn't end well for Jessica Abraham. In just one week she turns thirty, loses her day job, and loses the role of Ophelia to a younger actress. Rallying, she goes after a part at a theater outside of the city, but the director's plan to hide her beauty behind hair, makeup and wardrobe from Cosmo's "Don't'' column shakes her confidence to the core.
For the first time in her acting career, she won't be able to rely on her carefully managed physical charms. Only her craft will count.
On a snowy night early in January 1989, a woman calls into DJ Callihan Alonso's alt-rock radio show at the end of her commute. He asks her to call back the next night, and the next, just so he'll know she's home safe. There's something about her voice that has him wanting more, but the longer they talk, the closer she gets. Compromising each and every wall he's built around his heart.
If two lonely people fall in love over late-night phone calls, will meeting face-to-face make them, or break them?
In this heartfelt, slow burn retro romcom, it may be the end of a decade, but it's the beginning of a love story.
Jasper Productions LLC, 9781737038306, 302pp.
Publication Date: April 7, 2021