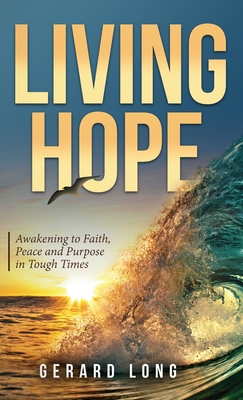 Living Hope
Hardcover

* Individual store prices may vary.
Other Editions of This Title:
Paperback (6/30/2021)
Description
An inspiring story that will amaze, challenge, encourage and help you to discover your own calling; to turn your struggles into purpose and blessings.
Coming back from being dead for 30 minutes, the author shares his powerful true redemption story of love, faith and courage in the midst of catastrophic suffering. It's a story of hope. A living hope, that triumphs over darkness
In reading Living Hope you can:
Learn how to have peace and happiness, whatever you may be going through;
Be inspired to have purpose and great hope for your life;
Learn to recognize that in every cloud in life, there is a silver lining;
Learn how to let go of what you can't control and focus on what you can control;
Learn how to live well when things don't work out for you;
Understand the 3 seasons of grief - comfort, restoration and triumph; and
Learn to have an attitude of gratitude.
Living Hope is written as an instructional memoir, to share the treasures of life discovered by the author on his journey. He shares the scriptures that helped to save his life. In his darkest time, he received 3 powerful life changing epiphanies that inspired and encouraged him through the suffering.
Living Hope
Provides a different lens through which to view the difficult times in life.
Provides powerful reasons to have faith in Christ.
Explains how to never give up and how to 'fight in the good fight of faith.'
Excerpt 1
Jeannie (my wife of 33 years) looked different. Her face was radiant. She was almost glowing.
I went over to her, and looking into her now-sparkling eyes, I said,
"Jeannie, what has happened to you?"
"Gerard," she answered, "as I walked into Rebecca's room I was enveloped in light, and I fell on the floor. I experienced love that I had never felt before. It was as though time stood still. The air was sparkling with joy and I could breathe for the first time in eight years. God spoke to me, and one of the things He said was, 'Your grief is not your own.'"
I held Jeannie in my arms. We stood quietly, in what seemed like a sacred moment. I had wondered if Jeannie would even survive Rebecca's death, and suddenly, I had her back. I hugged her even closer. I thanked God from the bottom of my heart.
Excerpt 2
It was October 26, 2019 and I was dead
I suffered a cardiac arrest. My heart stopped beating, my breathing ceased, and the medics couldn't revive me. I was clinically dead for more than 30 minutes. And then, miraculously, the paramedics detected a heartbeat.
My beloved Jeannie, my wife of 38 years, had to be half-carried in to see me in the intensive care unit. After all that we had gone through in the previous 15 years, would this be too much for Jeannie's own heart? But, she stayed by my side as she wept and prayed.
Awakening to God Ministries, 9781737249412, 344pp.
Publication Date: June 30, 2021