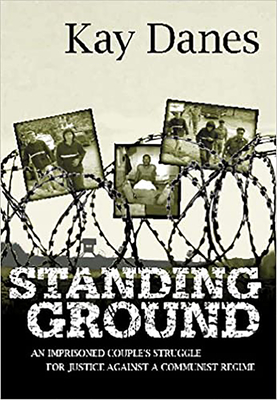 Standing Ground: An Imprisoned Couple's Struggle for Justice Against a Communist Regime (Paperback)
An Imprisoned Couple's Struggle for Justice Against a Communist Regime
New Holland Publishing Australia Pty Ltd, 9781741107579, 400pp.
Publication Date: May 1, 2009
Description
Standing Ground is the true story of Kay and Kerry Danes, a couple managing a security business in Laos. They are wrongly arrested and thrown into a stinking prison, accused of stealing gems from a business for which they did security work. They were charged and sentenced to seven years' imprisonment. Finally released and pardoned, they contacted many foreign embassies to advise them of their country's citizens being held for years without charge, and about those who were being treated cruelly.
About the Author
Kay Danes is probably best known for her arrest with her husband, under false charges of jewelry smuggling. Kay spent months in Laos prison with no clean water, torture sessions around them continuously and unfair and cruel treatment of prisoners given convictions without trial. Kay is dedicated to teaching people on human rights.
Advertisement