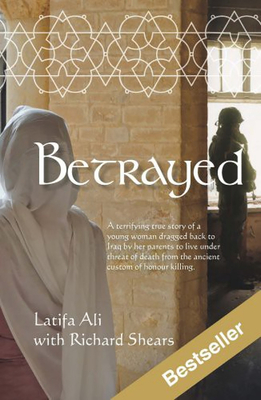 Betrayed (Paperback)
A terrifying true story of a young woman dragged back to Iraq by her parents to live under threat of death from the ancient custom of honour killing
New Holland Publishers, 9781741108118, 256pp.
Publication Date: May 1, 2009
* Individual store prices may vary.
Description
This is the true story of Latifa Ali, betrayed by her family and friends and kept as a prisoner byher father in Iraq. She has no allies, no liberty as a Muslim woman and no access to theAustralian Consulate.As the war on terror rages around her, Latifa is at war with her culture and customs.Imprisoned, abused and violated, her efforts to escape Iraq fail and her death looms closer.She grew up wearing bikinis on an Australian beach, but was forced into full Muslim dress.Working as a spy, consorting with the UN and racing for the border, Latifa knows that the onlyway to save her life is to keep her secret and make an escape.A harrowing story of independence and perseverance. Find out why she still lives in fear for her life.The story: Latifa was born in Iraq but her family moved to Australia to escape after the realthreat of being hunted and killed by Sadam Husein.
About the Author
Richard Shears has written 30 or so books encompassing fiction, true crime and general non-fiction. His recent non-fiction books include Bloodstain: the Vanishing of Peter Falconio and Wildlife Warrior: the Life of Steve Irwin. He has travelled the world as a journalist.Richard Shears is a prize-winning freelance journalist and a successful photojournalist.Born in England and now based in Australia, he is currently the Senior ForeignCorrespondent covering the ANZ, the Pacific and Asia for London's Daily Mail. He has written over 20 books, which have been published in numerous languages and focus onnews-orientated topics from around the world.
or
Not Currently Available for Direct Purchase