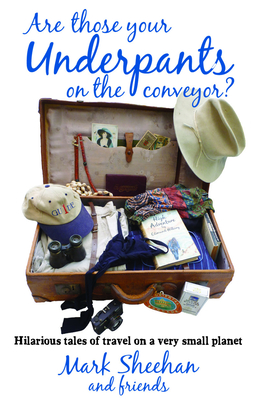 Are Those Your Underpants on the Conveyor?: Hilarious Tales of Travel on a Very Small Planet (Hardcover)
Hilarious Tales of Travel on a Very Small Planet
New Holland Publishing Australia Pty Ltd, 9781742572079, 195pp.
Publication Date: October 1, 2012
Description
A collection of short, highly-hilarious tales about the times we leave the comfort-zone of our own nest in search of the corner deli, the Prada handbag or the farthest reaches of the planet. Travel writer Mark Sheehan and his many well-travelled friends share a laugh out loud in this little pocket book of fun. If you don't crack an ear-to-ear smile, or break out in a belly-roll of laughter pinch yourself to be sure the blood is still flowing. If you're reading the book on the plane, please try and remember, the people around YOU are trying to sleep The Lone Ranger and Tonto went camping in the desert. After they got their tent all set up, both men fell sound asleep. Some hours later, Tonto wakes the Lone Ranger and says, 'Kemo Sabe, look towards sky, what you see? ' 'The Lone Ranger replies, 'I see millions of stars.' 'What that tell you?' asked Tonto. The Lone Ranger ponders for a minute then says, 'Astronomically speaking, it tells me there are millions of galaxies and potentially billions of planets. Astrologically, it tells me that Saturn is in Leo. Time wise, it appears to be approximately a quarter past three in the morning. Theologically, the Lord is all-powerful and we are small and insignificant. Meteorologically, it seems we will have a beautiful day tomorrow.' 'What's it tell you, Tonto?' 'You dumber than buffalo shit. It means someone stole the tent' ABOUT THIS BOOK: Hilarious true tales from life on the road, in the air and down the back of the bus compiled by travel writer and travel professional Mark Sheehan. A hilarious romp around the world of travel, with true tales from both the back seat of the bus and the tour guide's microphone. Travel guru Mark Sheehan brings together stories from all around the world of tour organizers and travelers, from the prestige to the backpacker. Guaranteed to extract a laugh out loud from even the most cynical armchair traveler. Many of the kerbside observations I've jotted down in this book have made my eyes water with tears of laughter. Some have made me cringe and rub my forehead, my buttocks and other body parts out of empathy for the whack and crash-landings taken by the other guy.Mark Sheehan.
Advertisement