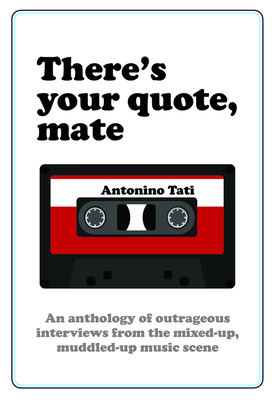 There's Your Quote, Mate (Paperback)
An anthology of outrageous interviews from the mixed-up, muddled-up music scene
New Holland Publishers, 9781742575933, 416pp.
Publication Date: May 15, 2018
* Individual store prices may vary.
Description
Antonino Tati (founding editor of Cream Magazine) celebrates 20 years of publishing by pulling together an anthology of unorthodox interviews with artists from the international music scene – delving into juicier subjects like sex and sexuality, drink and drugs, money and politics, race and religion, and the pitfalls of fame and faux pas of the famous.
From the veteran likes of Nick Cave, Dave Grohl, Henry Rollins and Patti Smith, to contemporary icons Naomi Campbell, Ellie Goulding, Calvin Harris and Adam Lambert, artists from every genre are prodded, poked and pinned under the microscope for sharper observation.
Interspersed with fascinating listicles and behind-the-scenes antics, There's your quote, mate adds up to one outlandish and outrageous read: an up-close look at a music industry gone utterly mad.
About the Author
Antonino Tati has been writing about pop culture since 1989 after graduating with a B.A. in Media Studies from Edith Cowan University. Since then, he has contributed to local street press and international glossies as well as having founded his own magazine, Cream, in 1997.
His musical tastes range from indie rock to progressive dance, and his top five albums of all-time are Sgt. Peppers by The Beatles, To Venus and Back by Tori Amos, Cupid & Psyche by Scritti Politti, Ray of Light by Madonna, and Strange Angels by Laurie Anderson.
Antonino continues to edit Cream and presents talks and music programs on alternative radio.
He is a proud godfather to his sister's pet poodle, C-Jay.