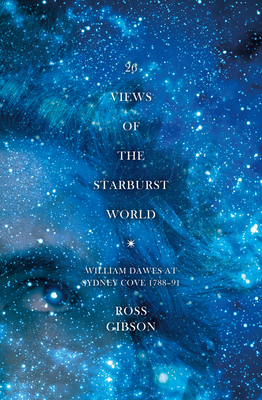 26 Views of the Starburst World (Paperback)
William Dawes at Sydney Cove 1788-1791
UWA Publishing, 9781742582979, 304pp.
Publication Date: June 27, 2012
* Individual store prices may vary.
Description
In January 1788, astronomer and colonist William Dawes came to New South Wales' Botany Bay with the First Fleet Marines. He then came back into view in 1972, when a pair of slender 'language notebooks' - 80 small pages of limber handwriting - were discovered at the University of London's School of Oriental and African Studies. These language notebooks are a crucial relic of the first four years of British colonization. In this book, author Ross Gibson continues his speculative brilliance on William Dawes, using Dawes' notebooks as source material. 26 Views of the Starburst World is an intellectual adventure around the tensions and pleasures of language and meaning, particularly Dawes' encounters under the southern stars, sharing ideas with a small group of Indigenous people from around Sydney Harbor. Dawes called his collaborators 'the Eora,' who told him it was their word for 'people' - it might have been the first thing they watched him write down. These were also the years when Britain seized the Eora country, leading eventually to the establishment of the modern nation of Australia. Fragmentary, poetic, and intriguing, 26 Views of the Starburst World describes, ponders, and interprets the pages of Dawes' notebooks, which are reproduced throughout.
or
Not Currently Available for Direct Purchase