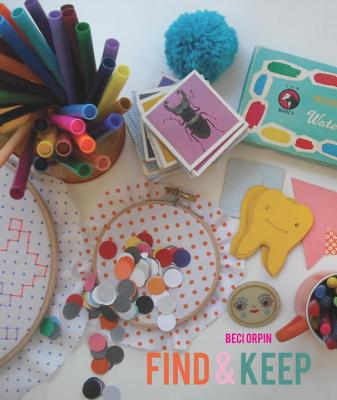 Find & Keep (Hardcover)
Hardie Grant, 9781742704555, 236pp.
Publication Date: November 20, 2012
* Individual store prices may vary.
Description
Be inspired with Beci Orpin's beautiful new book Find & Keep. This gorgeous ideas and craft book features all of Beci's favorite things, from wall murals such as life-size paper Christmas trees, to embroideries and herb gardens and picnic fare. Discover where Beci gets her inspiration from and follow her in her studio, at home and out and about as she gathers ideas for her projects. Learn how these ideas come to life and then apply them yourself with 25 make-at-home projects that cover a wide range of crafty mediums, from collages to cushions and t-shirts to teacups. With simple step-by-step instructions and tips and beautiful page design by Michelle Mackintosh, these cool crafty ideas are new and fresh and bound to appeal to fans of Beci's work and crafting in general. So, get inspired, get creative and go find, make and keep!
About the Author
Beci Orpin was born in Melbourne during the early 1970s to hippie parents. For the first three years of her life, she lived out of the back of an SUV traveling around Australia, and never had to wear shoes. Orpin has a degree in textile design and started a clothing line, Princess Tina, with her husband and business partner, Raph. She now has another clothing line, Tiny Mammoth, and also creates homewares and stationery-based products under her own name.