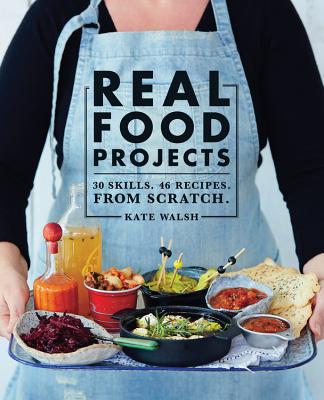 Real Food Projects (Paperback)
30 Skills. 47 recipes. From scratch.
Murdoch Books, 9781743364222, 216pp.
Publication Date: September 5, 2017
* Individual store prices may vary.
Description
Survive the twenty-first century with good, clean, healthy food from Kate Walsh's Real Food Projects.

Real Food Projects connects you with your food. Make your own butter and slather it on your own no-knead bread; barbecue your own sausages; smoke your own salmon in a wok on your stovetop. Make your own fresh cheese and ricotta. Ferment your own kombucha and kefir and flavour it with the best of the season.

This book holds the skills you need to survive the twenty-first century with good, clean, healthy food on the table. Kate Walsh, founder of Real Food Projects, curates 30 of the most important and inspiring things you can do in your kitchen, divided into easy, medium to more complicated projects. One-third cookbook and two-thirds do-it-yourself manual, this is not a boring reference book - just a great, motivating invitation to reduce your reliance on the supermarket and incorporate real and relevant skills and real food into a real life. It's smart, helpful, solid and packed with real info. After learning from noted artisans and experts, Kate Walsh translates the skills to explain them to us, the readers, simply and without mucking around. Full of step-by-step advice, Real Food Projects is a workbook for real-life real food.
About the Author
Kate Walsh wants to change the way you eat. A self-taught cook and sustainable food advocate, she is shining a spotlight on simple ways to transform how we cook, shop and think about food. Working on organic farms and with Slow Food USA instilled in Kate a dedication that ultimately sparked the creation of Real Food Projects, an active community of chefs, growers, foragers, butchers and eaters. Real Food Projects runs cooking classes in Sydney and Byron Bay, where Kate teams up with top local artisans to teach essential kitchen skills so that we can all skip out of the supermarkets without looking back. When not teaching, Kate spends her time writing, parenting and cooking. Lots and lots of cooking.
or
Not Currently Available for Direct Purchase