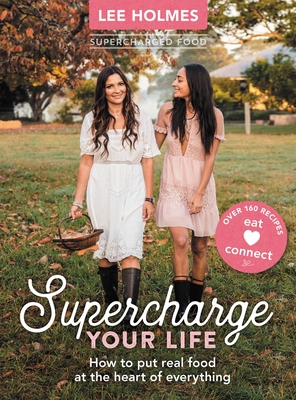 Supercharge Your Life (Paperback)
How to put real food at the heart of everything
Murdoch Books, 9781743366394, 352pp.
Publication Date: January 15, 2019
* Individual store prices may vary.
Description
This inspiring and definitive book serves up 140 hearty, wholesome and energizing recipes, supported by approaches to living a balanced, mindful, connected and supercharged life.

Lee Holmes believes it's time to escape the cycle of restrictive and fad diets, and allow ourselves to fall in love with food all over again. In Supercharge Your Life, she shows us how to shed our fear of eating the 'wrong' thing and instead celebrate beautiful and nourishing food, embrace commonsense eating and make our kitchen the heart of our home.

You will find out how to set up your food workspace; simplify meal preparation; stock your pantry, fridge and freezer; and master cooking vegetables. Lee shares flavour pairings and food partnerships information; advises on setting up a basic herb and vegetable patch; and presents some inspiring tablescapes where you can rediscover the lost art of mealtimes at shared gatherings with family and friends.

Recipe chapters include:
Smoothies
Refreshing Drinks
Tummy Warming Drinks
Breakfast Dishes
Soups
Snacks, Breads and Dips
Salads
Vegetables
Main Meals and Comfort Food
Morning and Afternoon Tea
Desserts
Occasions

Lee also provides menu suggestions for occasions ranging from a romantic supper to a picnic rug lunch with friends. Woven through the book is a discussion of the cornerstones for living a 'whole' life: home and family; health and longevity; friends and community; spirituality; finances; career and passion; and of course, beautiful and nourishing food, which can be a connecting force in every aspect of our lives.
About the Author
Lee Holmes holds an Advanced Certificate in Food and Nutrition and is a Certified Health Coach from the Institute of Integrative Nutrition. She is a wholefoods chef and author of bestselling books in the Supercharged Food series: Eat Your Way to Good Health, Eat Yourself Beautiful, Eat Clean, Green and Vegetarian, Heal Your Gut and 2017's Fast Your Way to Wellness. In 2006 her TV career ended up on the cutting room floor after being diagnosed with a debilitating autoimmune disease. After incorporating a wholefoods diet and successfully recovering, she created her blog Supercharged Food (www.superchargedfood.com), which won the BUPA Health Influencer award.  She is a regularly features on thedailymail.com and has been featured in Glamour, Grazia, BBC Good Food, The Sunday Times, Woman's Own, The Sun, The Daily Express and Women's Health.