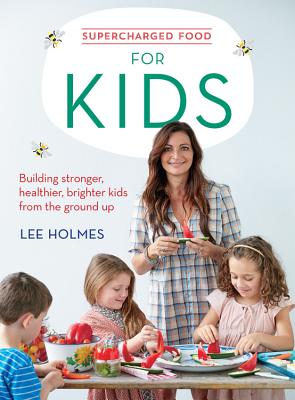 Supercharged Food for Kids (Paperback)
Building stronger, healthier, brighter kids from the ground up
Murdoch Books, 9781743367780, 152pp.
Publication Date: August 7, 2018
* Individual store prices may vary.
Description
Health guru Lee Holmes new book aims to establish positive eating habits for your kids with delicious child-friendly recipes for the home kitchen. Supercharged Food for Kids will inspire you to create fresh, wholesome and nutrient-rich meals that your children will enjoy again and again, giving them the energy and nourishment they need to thrive. You'll find recipes here that will please even the pickiest of little eaters! With advice on how to avoid added sugar and processed foods, eating for allergies and intolerances, tips for busy families and even the lowdown on how to sneak superfoods into everyday meals, this book is full of resources to help establish positive eating habits for your kids that they can maintain for the rest of their lives. Supercharged Food for Kids features old favourites such as pizza, nuggets, pasta and desserts reinvented using fresh, healthy ingredients, plus ideas for yummy snacks and school lunches that kids will actually want to eat. Think Cauliflower Mac and Cheese, Cacao Bomb Crackles, Cheesy Mini Tartlets, Crunchy Chicken Drummers, Watermelon Icy Poles and Savoury Breakfast Muffins, just for starters.
About the Author
Lee Holmes holds an Advanced Certificate in Food and Nutrition and is a Certified Health Coach from the Institute of Integrative Nutrition. She is a wholefoods chef and author of bestselling books in the Supercharged Food series: Eat Your Way to Good Health, Eat Yourself Beautiful, Eat Clean, Green and Vegetarian, Heal Your Gut and 2017's Fast Your Way to Wellness. In 2006 her TV career ended up on the cutting room floor after being diagnosed with a debilitating autoimmune disease. After incorporating a wholefoods diet and successfully recovering, she created her blog Supercharged Food (www.superchargedfood.com), which won the BUPA Health Influencer award.  She is a regularly features on thedailymail.com and has been featured in Glamour, Grazia, BBC Good Food, The Sunday Times, Woman's Own, The Sun, The Daily Express and Women's Health.