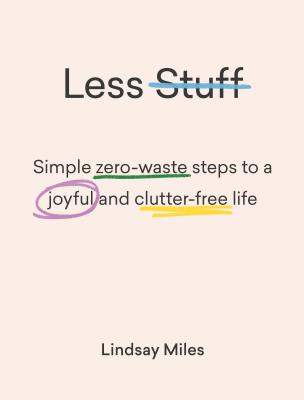 Less Stuff (Paperback)
Simple Zero-Waste Steps To A Joyful And Clutter-Free Life
Hardie Grant, 9781743795446, 224pp.
Publication Date: August 6, 2019
* Individual store prices may vary.
Description
When we consider how we love to spend our time, we don't tend to think about sorting, cleaning or tidying. The mess and clutter filling our spaces impacts on our productivity, stresses us out and keeps us stuck. Our stuff stands in the way of the lives we dream about. But what about when it comes to throwing away all that stuff? After all, there is no 'away'. Decluttering is great for our mental wellbeing, and when done right, it can be good for the planet too.

Less Stuff is a guide for people who find it difficult to declutter and who don't want to see things go to waste. Step by step, you'll explore finding your 'enough', learn how to let go of your old possessions without sending them to landfill, and eventually break the cycle of stuff.
About the Author
Lindsay Miles is a passionate zero-waste and plastic-free living spokesperson and educator who helps people to find more meaningful lives with less waste and less stuff. She has been sharing ideas and strategies on her popular website, Treading My Own Path, since 2013, and has been featured by the ABC and BBC, Channel 9, The Guardian, Seven West Media, The Sunday Times, TreeHugger, TEDx and more.