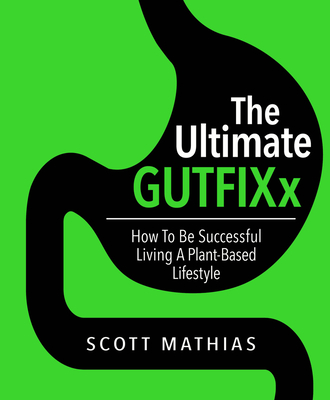 The Ultimate Gutfixx (Paperback)
New Holland Publishers, 9781760790059, 224pp.
Publication Date: December 3, 2018
* Individual store prices may vary.
Description
At last, a solution to gut issues, which becomes a lifestyle for the health of the human body and planet earth, all wrapped into one very interesting and informative read.
Scott Mathias is a 'self healed', upwardly mobile 60+ year old vegan chef and 'gut whisperer'. He is renowned for his inspirational best selling raw vegan recipe books.
Now he has stepped off the pages and into his own lifestyle likening it to that led by the humble hippopotamus.
By choosing this example of a grand animal as a prudent and clean way to lead a healthier lifestyle, he has taken the narrative right into the very bowels of nature.
Not only jam packed with fabulous information on the workings of the human digestive system, 'THE ULTIMATE GUTFIXx – How To Succeed Living A Plant Based Lifestyle, comes also with its very own set of tasty and very healthy plant based recipe suggestions – like a one stop approach to great contemporary health information and recipes, along with a meal plan guide.
A quote from the introduction explains Scott's MO for writing THE ULTIMATE GUTFIXx at this time.
Scott shares his wisdom around taking a 24 hour approach to his health and using the rhythm of the day – as the hippo does – and identifies food for elimination, food for ingestion, digestion and absorption and foods for the fasting hours.
About the Author
Scott Mathias became a fully plant based chef, and a digestive health specialist and educator after suffering from a chronic digestive illness. He is a Certified Holistic Health Coach and a member of the American Association of Drugless Practitioners.
He has made plant food a part of his everyday diet, consciously choosing to eat food that retains 100 per cent of its nutritional value.
Scott Mathias is a former Television Journalist who spends his time educating men and women on the importance of good gut function and healthy eating. His creativity in the kitchen has gained him an enviable culinary notoriety, which many celebrity chefs are beginning to embrace.
He's the author of three books, Understanding The Divine Gut – an anthology of the industrialisation of the food industry and its effects on the planet today and Let's Eat Raw – filled with simple, raw vegan recipes that will not stress your body in any way and RAW Vegan Meals – beautiful plant based food book with recipes featuring world flavours for platters, bowls and boards.
After 45 years of chronic acid reflux and many other debilitating conditions that affected his daily life negatively, Scott researched and discovered the healing properties of Green Papaya and now produces his own range of digestive health solutions including Green Papaya Powder – locally grown and a natural source of healing enzymes, which support digestive dysfunction. This, in tandem with a healthy diet incorporating lots of live plant based proteins, ensures his clients create a clean, healthy inner environment resulting in a reduction in inflammation, better sleep, clearer thinking, no pain and more energy.
This is Scott's third book.