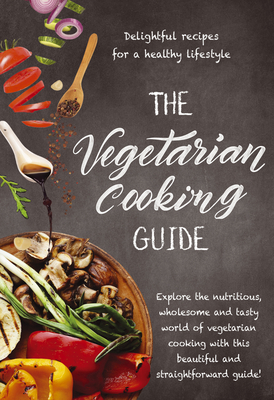 The Vegetarian Cooking Guide (Hardcover)
Explore the Nutritious, Wholesome and Tasty World of Vegetarian Cooking with this Beautiful and Straightforward Guide!
New Holland Publishers, 9781760791193, 240pp.
Publication Date: September 2, 2019
* Individual store prices may vary.
Description
The Vegetarian Cooking Guide is a beautifully illustrated and simple-to-follow guide to the joy of meat-free cooking. Explore the world of beautiful fresh vegetables, hearty grains, and nutritious pulses to open up a new range of culinary possibilities. The guide covers everything from light snacks and dips to hearty soups, inspired sides, and delicious mains. Each recipe walks you through the process of turning the humble vegetable into an Instagram-worthy delight! It features more than 90 delicious, wholesome, and filling recipes and is a brilliant reference for both the experienced home cook and novice chef alike.
About the Author
New Holland Publishers is a publisher of quality and diverse product in all categories of nonfiction—from travel, biography, sport, and true crime to self-help, gardening, food, and natural history. We pride ourselves on the highest editorial and design standards and we're sure that you will find this commitment to quality reflected in our new releases and forthcoming highlights. Illustrated books are a strong part of New Holland's publishing program, with a focus on producing beautiful color books that are both inspiring and practical.