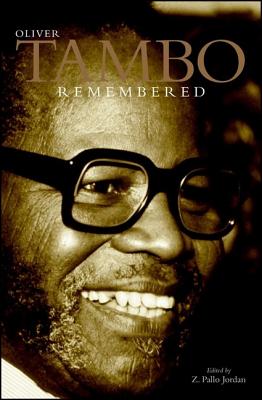 Oliver Tambo Remembered (Hardcover)
His Life in Exile
Palgrave MacMillan, 9781770100756, 300pp.
Publication Date: October 8, 2007
* Individual store prices may vary.
Description
Tambo in Exile is a salute to one of South Africa's most remarkable individuals. On what would have been Oliver Tambo's 90th birthday, friends and associates remember the leader and celebrate his impact on South Africa's future and his unyielding commitment to raising the profile of the ANC.
About the Author
Donald Anderson Emeka Anyaoku Kader Asmal Sandi Gladstone Baai Geoffrey Bindman George Bizos Paul Boateng Victoria Brittain Brian Brown Lynda Chalker Ismael Coovadia Evelyn de Rothschild Jerry Dunfey Brian Filling Frene Ginwala Jonas Gwangwa Nadine Hack Peter Hain Michael Holman George Houser Geoffrey Howe Trevor Huddleston Bob Hughes Helen Jackson Ronnie Kasrils Sydney Kentridge Horst Kleinschmidt Thandi Lujabe-Rankoe Lindiwe Mabuza Winnie Madikizela-Mandela Nelson Mandela Gail Marcus Joe Matthews President Thabo Mbeki Zanele Mbeki Baleka Mbete George Meehan Rita Mfenyana Sindiso Mfenyana Sobizana Mngqikana Mosie Moolla Ruth Mompati Tony Msimanga Sankie Mthembi-Mahanyele Geoffrey Nhlanhla Ngwenya Thembi Nobadula Thami Ntenteni Sam Nujoma Paul Oestreicher Kjeld Olesen Enuga Reddy Dorothy Robinson Albie Sachs Sally Sampson Stan and Angela Sangweni Bengt Save-Soderbergh Pierre Schori Judith Scott Tony Seedat Ronald Segal Michael Seifert Reg September Wally Serote Gertrude Shope Nomasonto Sibanda-Thusi Gertrude Shope Gillian Slovo David Steel Adelaide Tambo Mike Terry Ben Turok Desmond Tutu Ian Walters Per Wastberg Pauline Webb Cora and Peter Weiss Michael Young Nkosazana Dlamini Zuma