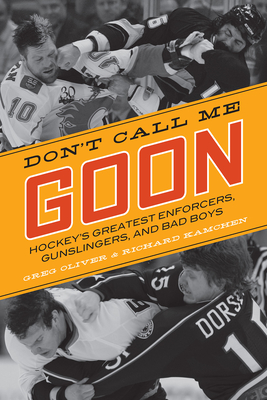 Don't Call Me Goon (Paperback)
Hockey's Greatest Enforcers, Gunslingers, and Bad Boys
ECW Press, 9781770410381, 280pp.
Publication Date: September 1, 2013
* Individual store prices may vary.
Description
In professional hockey, enforcers are often as popular with fans as the stars who cash the big paycheques. Called upon to duke it out with a fellow troublemaker, or to shadow (and bruise) an opponent's top scorer, these men get the crowds out of their seats, the sports-radio shows buzzing, and the TV audience spilling their beers in excitement. Don't Call Me Goon gives the mayhem-makers their due by sharing their overlooked stories and contributions to the game. Drawing on a wealth of knowledge, research, and interviews, Oliver and Kamchen highlight the players who have perfected the art of on-ice enforcing from old timers like Joe Hall and Red Horner; to legendary heavy-hitters like Tiger Williams, Stu Grimson, and Bob Probert; to fan favourites like Tie Domi and Georges Laraque; and contemporaries like Arron Asham and Brian McGrattan. Don't Call Me Goon also explores the issues that plague the NHL's bad boys -- suspensions, concussions, controversy -- and looks ahead to the future of tough guys in the fastest game on ice.
About the Author
Greg Oliver is the author of "Pro Wrestling Hall of Fame: Heroes and Icons," " Pro Wrestling Hall of Fame: Tag Teams," and "Pro Wrestling Hall of Fame: The Heels." He lives in Toronto. Richard Kamchen is a freelance writer living in Winnipeg, Manitoba.
or
Not Currently Available for Direct Purchase