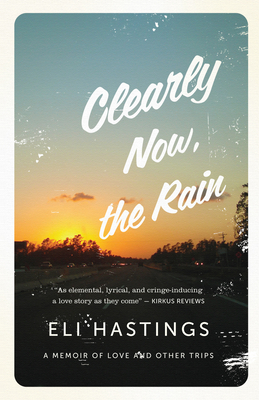 Clearly Now, the Rain
A Memoir of Love and Other Trips
Paperback

* Individual store prices may vary.
Description
"A drug, romance, and adventure-filled exploration ... a story that is both thoroughly of its time and timeless in theme." -- Seattle Times
From ill-advised quests for narcotics to dramatic summer road trips, this memoir of a relationship with a self-destructive woman is "as elemental, lyrical, and cringe-inducing a love story as they come." -- Kirkus Reviews
Suspenseful, darkly funny, and devastating, this is Eli Hastings's true story of his troubled, decades-long relationship with his friend Serala. At family events, Serala wore demure saris and ate delicately from plates of curry. But elsewhere, she wore a lip ring, designer shades, and a cowboy hat. She regularly drank frat boys under the table, slept fewer than five hours a week, and placed herself in a series of dangerous situations for another bag of heroin.
Serala's complex personality and seemingly haphazard choices are brought to vivid life, from the search for drugs in Mexican border towns to unplanned 50-hour road trips across the continent. Although she died tragically at age 27, Hastings writes the story of her dark journey with hope and tenderness in this unique memoir of friendship and loss.
ECW Press, 9781770410770, 260pp.
Publication Date: May 1, 2013
About the Author
Eli Hastings lives in Seattle, Washington. He is completing an internship and MA in family therapy. He is a poetry facilitator with youth at King County Juvenile Detention and holds an MFA from the UNC at Wilmington. His first book, Falling Room, was published in the American Lives Series at the University of Nebraska Press in 2006.
or
Not Currently Available for Direct Purchase