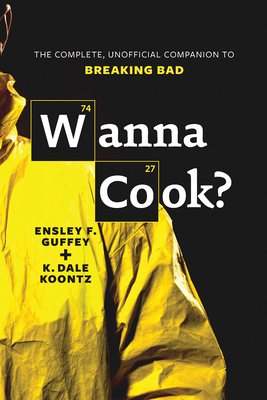 Wanna Cook? (Paperback)
The Complete, Unofficial Companion to Breaking Bad
ECW Press, 9781770411173, 433pp.
Publication Date: May 13, 2014
* Individual store prices may vary.
Description
"I am not in danger . . . I am the danger." With those words, Breaking Bad's Walter White solidified himself as TV's greatest antihero. Wanna Cook? explores the most critically lauded series on television with analyses of the individual episodes and ongoing storylines. From details like stark settings, intricate camerawork, and jarring music to the larger themes, including the roles of violence, place, self-change, legal ethics, and fan reactions, this companion book is perfect for those diehards who have watched the Emmy Award-winning series multiple times as well as for new viewers. Wanna Cook? elucidates without spoiling, and illuminates without nit-picking. A must-have for any fan's collection.
About the Author
Ensley F. Guffey: Ensley F. Guffey is a historian of American popular culture, and he has published scholarly essays on Breaking Bad, Buffy the Vampire Slayer, Farscape, and Marvel's The Avengers.K. Dale Koontz: K. Dale Koontz is the author of Faith and Choice in the Works of Joss Whedon (McFarland, 2008) and teaches courses in areas as diverse as communications, film, theatre, and the law.