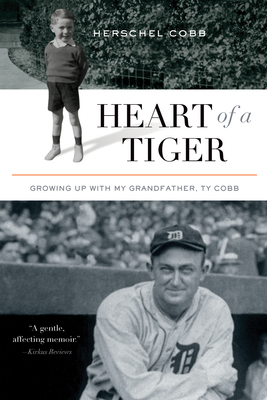 Heart of a Tiger: Growing Up with My Grandfather, Ty Cobb (Hardcover)
Growing Up with My Grandfather, Ty Cobb
ECW Press, 9781770411302, 220pp.
Publication Date: April 1, 2013
Description
The previously untold legacy of Ty Cobb Ty Cobb is a baseball immortal, considered by many the greatest player who ever lived. In an age when the game was young and tough, he cultivated a reputation as the fiercest competitor of them all. Yet after he retired, he realized that the very qualities that helped him reach the pinnacle of his profession also undermined his relationship with his own children. He was deeply depressed when two of his sons died at a very young age. Cobb never had the chance to bridge the emotional distance between them. Herschel Cobb grew up in a chaotic, destructive household. His father was cruel and abusive, and his mother was an adulterous alcoholic. After his father died, when Herschel was eight, he began to spend a portion of each summer with his grandfather. Along with his sister and brother, Herschel visited Ty Cobb at his home in Atherton, California, or at his cabin at Lake Tahoe. These days were filled with adventures, memorable incidents, and discoveries as "Granddaddy" warmed to having his "three redheads" with him. Heart of a Tiger is Herschel Cobb's moving account of how a retired sports star seized a second chance at having a close family, with his grandchildren the lucky recipients of his change of heart. He provided wisdom, laughter, and a consistent affection that left an indelible mark. He proved the enormous power of a grandparent to provide stability, love, and guidance. As he developed this new, wholly different legacy, in turn he would finally come to peace with himself.
About the Author
Herschel Cobb is the grandson of Ty Cobb. He lives in Menlo Park, California.
Advertisement