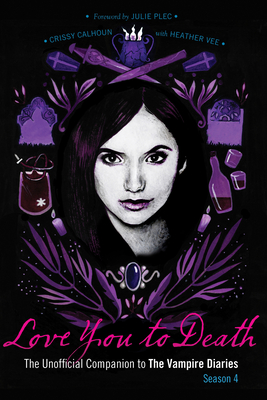 Love You to Death, Season 4 (Paperback)
The Unofficial Companion to the Vampire Diaries
ECW Press, 9781770411845, 261pp.
Publication Date: October 1, 2013
Description
With a foreword by co-creator Julie Plec, the fan-favorite Love You to Death series returns with an essential guide to the fourth season of The CW's hit show The Vampire Diaries. This season four companion delves headlong into the twists and turns of each episode, exploring the layers of rich history, supernatural mythology, historical and pop culture references, and the complexities and motivations of the show's memorable cast of characters. Add expanded chapters on the making of the show, the people who bring the world of Mystic Falls to life, and the intensely loyal audience that keeps it thriving, and you have a guide as compelling and addictive as the show itself. Features exclusive interviews with: co-creator Julie Plec, executive producer Caroline Dries, writer Jose Molina, producer Pascal Verschooris, director Joshua Butler, cinematographer Dave Perkal, editor Tyler Cook, and composer Michael Suby.
About the Author
Crissy Calhoun is the author of "Love You to Death," "Love You to Death - Season 2," "Love You to Death - Season 3," and "Spotted: Your One and Only Unofficial Guide to Gossip Girl." She writes a weekly column for www.vampire-diaries.net, the premier fan site for the series. She lives in Toronto. Heather Vee is the co-owner of www.vampire-diaries.net and coeditor of "A Visitor's Guide to Mystic Falls: Your Favorite Authors on The Vampire Diaries." She lives in Tucson, Arizona.
Advertisement