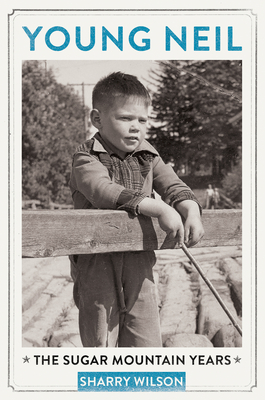 Young Neil (Paperback)
The Sugar Mountain Years
ECW Press, 9781770411869, 469pp.
Publication Date: October 14, 2014
* Individual store prices may vary.
Description
Young Neil is a detailed chronological narrative of the early life of iconic Canadian musician Neil Young. Exploring a time in this Rock and Roll Hall of Famer's life that has yet to be documented with such depth of research, Young Neil is an exhaustive document of his "Sugar Mountain" years, from 1945 to 1966. From his birth in Toronto through his school years in Florida, Ontario, and Manitoba, the book examines the development of Young's unique talent against a backdrop of shifting postwar values, a turbulent family history, and a musical revolution in the making. Includes many previously unseen photos, memorabilia, and set lists.

About the Author
Sharry Wilson was born in Toronto and still resides just north of the city with her husband. A lifelong Neil Young fan, Sharry has contributed numerous articles to Broken Arrow, the quarterly magazine of the Neil Young Appreciation Society. Young Neil is an expansion of her two-part article, "A Shakey Education." Young Neil is Sharry's first book.