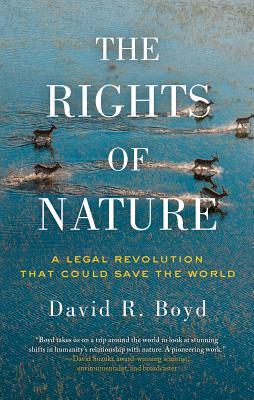 The Rights of Nature (Paperback)
A Legal Revolution That Could Save the World
ECW Press, 9781770412392
Publication Date: September 5, 2017
Other Editions of This Title:
MP3 CD (9/5/2017)
Compact Disc (9/5/2017)
* Individual store prices may vary.
Description
Palila v Hawaii. New Zealand's Te Urewera Act. Sierra Club v Disney. These legal phrases hardly sound like the makings of a revolution. But beyond the headlines portending environmental catastrophes, a movement of immense import has been building in courtrooms, legislatures, and communities across the globe. Cultures and laws are transforming to provide a powerful new approach to protecting the planet and the species with whom we share it.
In Argentina, courts have ordered chimpanzees and orangutans to be freed from captivity in zoos, because these great apes have rights. In Hawaii and India, judges have recognized that endangered species from birds to lions have the legal right to exist. In New Zealand, Ecuador, and the U.S., laws have been passed recognizing that ecosystems rivers, forests, mountains, and more have legally enforceable rights. And if nature has rights, then humans have responsibilities.
In The Rights of Nature, noted environmental lawyer David Boyd tells this remarkable story, which is, at its heart, one of humans as a species finally growing up. Read this book and your world view will be altered forever. Important and timely, The Rights of Nature is a recipe for hope for humans and all forms of life.
About the Author
David R. Boyd is an environmental lawyer, professor, and advocate for recognition of the right to live in a healthy environment. Boyd is the award-winning author of eight books, including The Optimistic Environmentalist, and co-chaired Vancouver's Greenest City initiative with Mayor Gregor Robertson. He lives on Pender Island, B.C. For more information, visit DavidRichardBoyd.com.