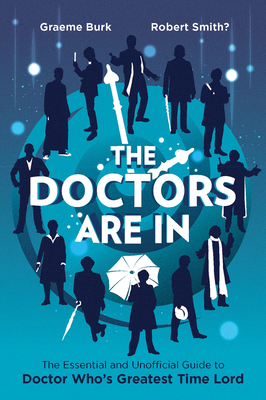 The Doctors Are in (Paperback)
The Essential and Unofficial Guide to Doctor Who's Greatest Time Lord
ECW Press, 9781770412545, 288pp.
Publication Date: September 1, 2015
* Individual store prices may vary.
Description
Get acquainted with the eccentric alien known as the Doctor
From his beginnings as a crotchety, anti-heroic scientist in 1963 to his current place in British pop culture as the mad and dangerous monster-fighting savior of the universe, the titular character of Doctor Who has metamorphosed in his 50 years on television. And yet the questions about him remain the same: Who is he? Why does he act the way he does? What motivates him to fight evil across space and time?
Series experts, and authors of Who's 50 and Who Is The Doctor, Graeme Burk and Robert Smith? answer all the questions in this guide to television's most beloved time traveler. The Doctors Are In is also a guide to the Doctor himself -- who he is in his myriad forms, how he came to be, how he has changed (within the program itself and behind the scenes)... and why he's a hero to millions.
About the Author
Graeme Burk is a writer and communications professional. He is the host of Reality Bomb, a Doctor Who podcast, and the author of three short stories in Doctor Who anthologies published by the BBC. He currently has a screenplay in development. Robert Smith? is a professor of disease modeling at the University of Ottawa. Since 1999, he has edited The Doctor Who Ratings Guide, one of the premier Doctor Who fan sites, and has had a number of Doctor Who short stories published in anthologies. In 2009, he received international media attention for a mathematical model of a zombie outbreak. Together, they are the co-authors of popular guides to Doctor Who Who's 50, Who Is The Doctor, and the upcoming Who Is The Doctor 2. They live in Ottawa, Ontario.
or
Not Currently Available for Direct Purchase