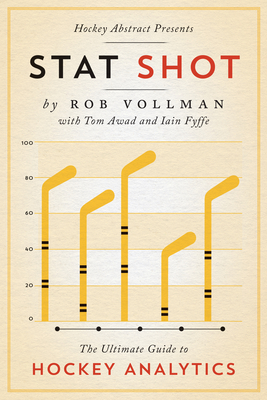 Hockey Abstract Presents... Stat Shot (Paperback)
The Ultimate Guide to Hockey Analytics
ECW Press, 9781770413092, 352pp.
Publication Date: September 13, 2016
* Individual store prices may vary.
About the Author
Best known for Player Usage Charts and his record-breaking ESPN Insider contributions, Rob Vollman was first published in the fall 2001 issue of the Hockey Research Journal and has since co-authored 10 books in the Hockey Abstract, Hockey Prospectus, and McKeen's magazine series. He writes for NHL.com, and lives in Calgary, Alberta. Tom Awad is a Montreal-based electrical engineer who loves applying numbers to his job, hockey, and anything else he can get his hands on. He has co-authored six previous books on hockey analytics. Iain Fyffe created Hockeythink (originally Puckerings), the first dedicated hockey analytics site, in 2001. He has served as editor of the Hockey Research Journal and was a co-author of the books Hockey Prospectus 2011 and 2012 and Hockey Abstract 2014, as well as the author of On His Own Side of the Puck. He lives in Fredericton, New Brunswick.