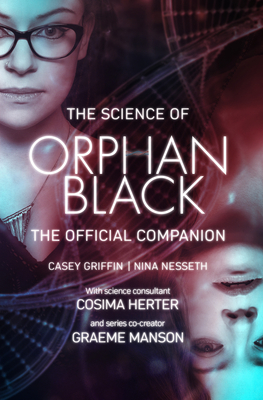 The Science of Orphan Black (Paperback)
The Official Companion
ECW Press, 9781770413801, 304pp.
Publication Date: August 22, 2017
* Individual store prices may vary.
Description
The official guide to the crazy science of Orphan Black
With exclusive insights from the show's co-creator Graeme Manson and science consultant Cosima Herter, The Science of Orphan Black takes you behind the closed doors of the Dyad Institute and inside Neolution. Authors Casey Griffin and Nina Nesseth decode the mysteries of Orphan Black; from the history of cloning, epigenetics, synthetic biology, chimerism, the real diseases on which the clone disease is based, and the transhumanist philosophies of Neolution, to what exactly happens when a projectile pencil is shot through a person's eye and into their brain. In full color, this must-have companion to the Peabody Award winning show covers all five seasons and includes a foreword by the "Real Cosima."
About the Author
Casey Griffin is a graduate student pursuing her Ph.D. in developmental and stem-cell biology at the University of Southern California in Los Angeles. She's been a fan of Orphan Black and avid member of the Clone Club since 2011. When she isn't loudly fan-girling over the show and being an all-around sci-fi and comic book nerd, she can be found working in the lab. Also an avid Clone Club member, Nina Nesseth is a professional science communicator whose background is rooted in biomedical sciences and science communication, with special interest in human biology. She is a staff scientist at Science North in Sudbury, Ontario. Nina and Casey write for entertainment news site The Mary Sue, where they dissect the science of Orphan Black. Cosima Herter is the science and story consultant on Orphan Black. Her scholarly background is in the history and philosophy of science and technology. Looking at questions of how science and technology, and particularly biology, are interconnected with politics and society informs her feminism, work, and interests. She lives in Toronto, Ontario.