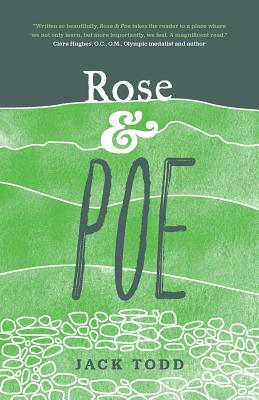 Rose and Poe (Paperback)
ECW Press, 9781770413993
Publication Date: October 17, 2017
Other Editions of This Title:
Compact Disc (10/17/2017)
MP3 CD (10/17/2017)
* Individual store prices may vary.
Description
Powerful . . . Todd's vivid language is perfectly suited to the epic sweep of his narrative. Publishers Weekly, starred review of Rain Falls Like Mercy
Set in mythical Belle Coeur County in a time not too far from our own, Rose and Poe gloriously re-imagines Shakespeare's The Tempest from the point of view of Caliban and his mother.
Rose and her giant, simple son, Poe, live quietly on the fringes of their town tending their goats and working at odd jobs. Prosper Thorne, banished from his big-city law practice and worrying about his fading memory, obsessively watches over his beloved daughter Miranda.
When Poe erupts from the forest one day carrying Miranda's bruised and bloody body, he is arrested, despite his protestations of get help-get help-get help. Overnight, Rose and Poe find themselves pariahs in the county where they have lived all their lives. In the face of bitter hatred and threats from her neighbors, the implacable Rose devotes all her strength to proving Poe's innocence and saving him from prison or worse.
Rose and Poe is a tale of a mother's boundless love for an apparently unlovable child, and a stunning fable for our own troubled times. It will stick in your memory like wild sweet honey.
About the Author
Jack Todd was born and grew up in Nebraska. He came to Canada during the Vietnam War and eventually settled in Montreal, where he has been a columnist for the Montreal Gazette for nearly 30 years. He is the author of a memoir and three previous novels.
1. In Shakespeare's original play, The Tempest, he portrays Caliban, his monster in a surprisingly sympathetic light, given the prejudices of his time. What do you suppose the author Jack Todd wants us to see in Poe, his Caliban? What are the prejudices of our time he exposes through Poe?
2. Music plays a big part in this novel. Like love, it is used here as a device of unity and camaraderie and joy. Think of your favorite music scenes in the book. How do they act to counter the scenes of prejudice?
3. Rarely has there been such a fierce and joyous portrait of love as that of Rose for Poe. Like Shakespeare's famous sonnet, it does not alter when it alteration finds. Is there a particular scene where Rose's love most stands out for you? Why do you find it memorable?
4. The townspeople are quick to turn on Poe when they can, with tragic consequences. Do you think it shook them to behave better in the future? Why?
5. Fables are often thought of as for children or leftover from time past. Why do you think the author chose to tell this story as a modern fable for adults?
6. The book has many memorable minor characters. Which are your favorites? Why?
or
Not Currently Available for Direct Purchase