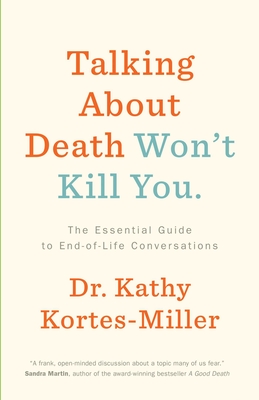 Talking about Death Won't Kill You (Paperback)
The Essential Guide to End-Of-Life Conversations
ECW Press, 9781770414068, 216pp.
Publication Date: March 6, 2018
Other Editions of This Title:
Paperback, Large Print (3/22/2018)
* Individual store prices may vary.
Description

- An accessibly written, inspiring guidebook for those who (a) are dying, (b) are close to those who are dying, and (c) are health practitioners.
- Covers immediate concerns (funeral arrangements, etc.), long-term planning around a terminal illness, sample conversations, workplace situations, and suggestions for how to talk to kids about death/dying.
- Different from other books on the subject, Talking About Death Won't Kill You takes a community engagement approach to dying and death by focusing on social groups, personal conversations, and informal caregiving, not concentrating solely on formal healthcare resources.
- Author is well connected, a cancer survivor, and an unconventional death educator and researcher.
- The book's title comes from the author's TEDx talk of the same name: https: //www.youtube.com/watch?v=AMRZHtkqtq0
- For readers of Being Mortal, When Breath Becomes Air, and The Bright Hour.
About the Author
Dr. Kathy Kortes-Miller is an assistant professor at the School of Social Work and the Palliative Care Division Lead at the Centre for Education and Research on Aging and Health (CERAH) at Lakehead University. She is an unconventional death educator with a passion for palliative care and improving end-of-life care for all. She lives in Thunder Bay, Ontario.