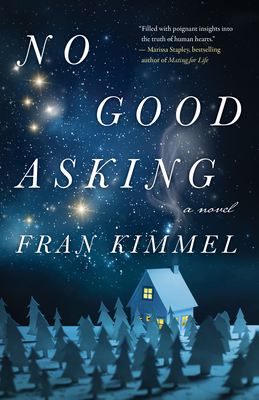 No Good Asking
Paperback

* Individual store prices may vary.
Description
A profoundly moving exploration of our capacity to heal one another. Ellie and Eric Nyland have moved their two sons back to Eric's childhood farmhouse, hoping for a fresh start. But there's no denying it, their family is falling apart, each one of them isolated by private sorrows, stresses, and missed signals. With every passing day, Ellie's hopes are buried deeper in the harsh winter snows. When Eric finds Hannah Finch, the girl across the road, wandering alone in the bitter cold, his rusty police instincts kick in, and he soon discovers there are bad things happening in the girl's house. With nowhere else to send her, the Nylands reluctantly agree to let Hannah stay with them until she can find a new home after the Christmas holidays. But Hannah proves to be more balm than burden, and the Nylands discover that the only thing harder than taking Hannah in may be letting her go.
ECW Press, 9781770414389, 288pp.
Publication Date: October 2, 2018
About the Author
Fran Kimmel is the author of The Shore Girl, which was named a CBC Top-40 Book and won the Alberta Readers' Choice Award in 2013. Fran's short stories have appeared in literary journals from coast to coast and have twice been selected for The Journey Prize Stories anthology. Born and raised in Calgary, Fran now writes and teaches in Lacombe, AB.
1. How does winter's shadow fall over the novel in terms of the storyline and atmosphere?
2. Ellie wants to move to Neesley so the family can have a fresh start, but what new challenges does the move create? What problems can't they escape?
3. Who is your favourite character and what draws you to them? Is there a character you dislike, and do they have redeeming qualities?
4. Hannah has been through such hardship and yet she still seems resilient. What influences throughout her childhood have helped shape her thoughts and actions?
5. Before Hannah arrives, how does each member of the family view Sammy? How does Hannah change these views?
6. How does Ellie see herself, and how does it differ from how others see her? What is your impression of Ellie? Do you become more or less sympathetic toward her as the story unfolds?
7. As a relationship develops between Daniel and Hannah, how do they each benefit?
8. How are Eric's and Ellie's parenting styles different? Why might they be that way?
9. Eric describes Christmas as the deepest of blue for Ellie. Why does she have such a difficult time coping during Christmas?
10. How would you describe the marriage and power dynamic between Eric and Ellie? How does Hannah's presence affect their relationship?
11. When Ellie stared at the tattered raven, "she couldn't understand the mechanics, how the bird stayed upright, its skinny claws attached to the wire." What other birds did you notice in the book and how are they meaningful?
12. How does the small-town setting and the isolation of the Nyland road affect the story? How would the story have played out differently in an urban setting?
13. Consider the title: how do you see it reflected in the book?
14, No Good Asking contains many small gestures with big emotional resonance. Was there a moment you found particularly poignant?
15. Are you satisfied with the ending? What do you think will happen next for these characters?
or
Not Currently Available for Direct Purchase