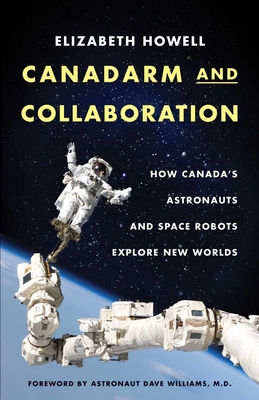 Canadarm and Collaboration
How Canada's Astronauts and Space Robots Explore New Worlds
Paperback

* Individual store prices may vary.
Description
With interviews from Chris Hadfield and Marc Garneau, the tale of Canada's involvement in international space exploration from the 1960s to the present day
Canada is a small but mighty power in space exploration. After providing the Canadarm robotic arm for the space shuttle in 1981, Canada received an invitation to start an astronaut program -- a program that quickly let its people accumulate skill and prestige. Canadian astronauts have since commanded the International Space Station, flown as co-pilots on spacecraft, and even held senior roles within NASA.
This book traces how Canada grew from small beginnings into a major player in international space policy. You will hear about Canada's space program from the words of its astronauts, from Canadian celebrity Chris Hadfield to Liberal cabinet minister Marc Garneau to Governor General Julie Payette. You will experience the excitement and challenges of reporting on a rocket launch in Kazakhstan, as Canada sent its latest astronaut to space in preparation for possible moon missions in the 2020s. And you will learn from the people who work behind the scenes on Canadian space technology and space policy about why we are doing this -- and what we plan to do next.
ECW Press, 9781770414426, 240pp.
Publication Date: October 20, 2020
About the Author
Elizabeth Howell, PhD, is a Canadian journalist focusing on space exploration. Her clients include CBC, SpaceQ, and Space.com. She has seen rocket launches in the United States and Kazakhstan, lived on a simulated Mars base, and interviewed dozens of astronauts. She is the author of The Science of Time Travel and The Search for Life on Mars. She teaches technical writing at Algonquin College and does consulting work for numerous institutions. She lives in Ottawa, Ontario.