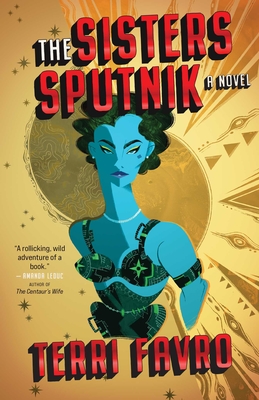 The Sisters Sputnik
Paperback

* Individual store prices may vary.
Other Editions of This Title:
Digital Audiobook (6/29/2022)
Description
"It does what readers ask of a Storyteller: keeps things fast-moving and entertaining. It's a breezy joy." -- Publishers Weekly
"Together, the Sisters Sputnik are the badassest kickass duo since Tank Girl and Jet Girl. If you like your speculative fiction sardonic, weird, sprightly, and intelligent, you will love this splendid book." -- Candas Jane Dorsey, author of Black Wine and Ice and Other Stories
An odyssey wrapped in a love story, set in a near-future of artificial people
The Sisters Sputnik are a time-traveling trio of storytellers-for-hire who are much in demand throughout the multiverse of 2,052 alternate worlds. Each world was created by the detonation of a nuclear bomb in Earth Standard Time, home of the Sisters' leader, aging comic book creator Debbie Reynolds Biondi, her 20-something apprentice Unicorn Girl, and their pop culture-loving AI, Cassandra. Tales of Earth Standard Time-That-Was, from World Wars to the space race to Hollywood celebrities, have turned the Sisters into storytelling rock stars.
In a distant reality where books and music have disappeared, Debbie finds herself in bed with an old Earth Standard Time lover who begs her to tell him a story. Over one long, eventful night, she spins the epic of the Sisters' adventures in alternate realities, starting with the theft of a book of evil comic strips in a post-pandemic Toronto full of ghost kitchens and robot-worshipping lost children known as junksters, to a disco-era purgatory where synthetic people are sending humans into the past through a reverse-engineered Statue of Liberty, to a version of the 1950s where the Sisters meet a rising star named Frank Sinatra and his girlfriend, the once-and-future Queen of England.
ECW Press, 9781770416086, 416pp.
Publication Date: May 17, 2022
About the Author
Raised in Niagara wine country, Terri Favro grew up with an electrician father who worked with the first factory robot and built his own robots at home. The experience fueled Favro's lifelong love of science fiction, comic books, and space exploration. A novelist, storyteller, essayist, and graphic novel writer, Favro is also an award-winning advertising copywriter who worked on campaigns for emerging technologies that changed the world. Terri lives in Toronto.