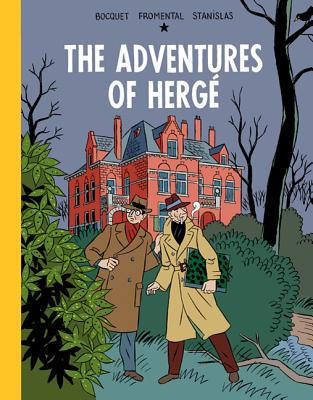 The Adventures of Herge (Hardcover)
Drawn & Quarterly, 9781770460591, 66pp.
Publication Date: December 6, 2011
Description
A GRAPHIC BIOGRAPHY OF "TINTIN"'S CREATOR by Jose-Louis Bocquet and Jean-Luc Fromental, Illustrated by Stanislas Barthelemy
"The Adventures of Herge" is a biographical comic about the world-renowned comics artist Georges Prosper Remi, better known by his pen name, Herge. Meticulously researched, with references to many of the Tintin albums and complete with a bibliography and mini-bios for each of the main "characters," the biography is appropriately drawn in Herge's iconic clear line style as an homage to the Tintin adventures that have commanded the attention of readers across the world and of many generations.
Seven-year-old Herge first discovered his love of drawing in 1914 when his mother gave him some crayons to stay out of trouble. He continued drawing in school when he fatefully met the editor of "XXe Siecle "magazine, where "Tintin "first appeared. His popularity skyrocketed from the 1930s through post World War Two. Herge was perceived by some to have aided the Nazi government in Belgium by continuing to publish "Tintin "in a government-sanctioned magazine, and he was briefly imprisoned in the aftermath of the war and narrowly escaped execution. Also covered are his marriage troubles in the 1950s and subsequent affair with Fanny Vlamynck, who went on to become his lifelong partner; his late career in the 1960s, as his interest in "Tintin "waned and he occasionally "disappeared" for weeks at a time as he contemplated giving up his career to become a fine-arts painter; and a recounting of a humorous encounter with Andy Warhol.
About the Author
JOSE-LOUIS BOCQUET is a French novelist, journalist, and essayist. He has written more than twenty books, including biographies of other cartooning legends such as Rene Goscinny (Asterix) and Yves Chaland. JEAN-LUC FROMENTAL is the author of more than thirty French graphic novels. He has collaborated with many key figures in French comics, including Yves Chaland and Blexbolex. STANISLAS BARTHELEMY has drawn graphic novels and children's books in France since 1986. He is one of the founding members of the French seminal publishing house L'Association.
Advertisement